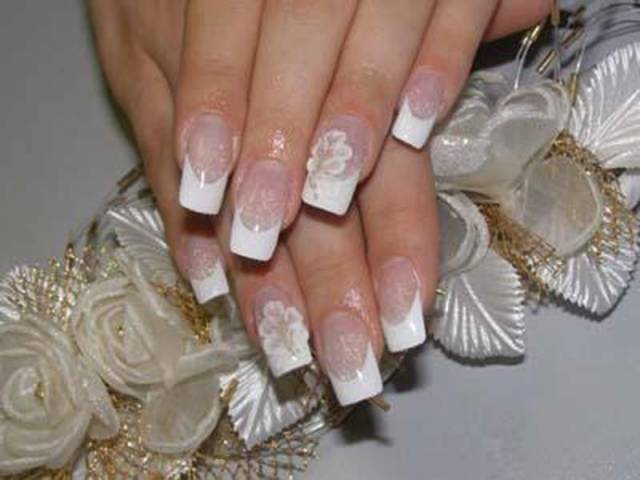 Create a beautiful nail design for 15 minutes is not a problem. This option manicure is suitable for all occasions, it will help create an evening and festive image, and restraint tone will emphasize your femininity and tenderness.
You will need
– Basic nail polish pastel shade
– Pointing tool or toothpick
– Small crystals
– Flower Sticker
– Clear nail polish
– White pearl lacquer
– Palette
Instructions
Apply to the nails base varnish, pastel shade. We take white pearl lacquer and pour a few drops into the palette, this is necessary for further convenience in use. We dip the toothpick into the varnish and draw vertical strips, from the edge of the nail to the middle, about 7-8 pieces. Between the drawn stripes, we arrange the points, at the edge of the nail they should be more fat, and when approaching the cuticle, they should become less noticeable.
We leave one nail on which you will make the decor, the rest of the nails need to be covered with a transparent varnish. We take a sticker-flower and have it on the nail, closer to the cuticle. Well pressed the flower from all sides, so that all its elements are well adhered.
We cover the sealed nails with the same lacquer that covered all the nails. While the varnish is not dried, a rhinestone must be placed in the center of the flower, pressing it with a toothpick. If you want a more festive version, then the rhinestones, in this case you need to arrange on all the nails.