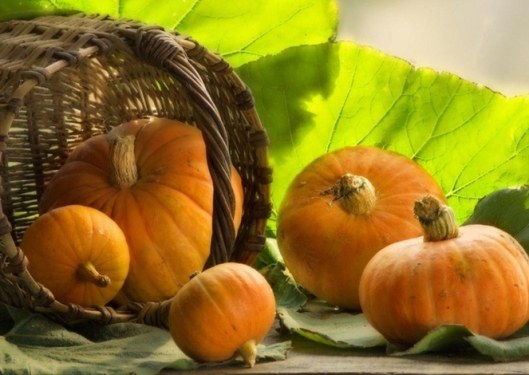 Pumpkin is not only a symbol of autumn and a dietary, fiber-rich vegetable, but also a product that is widely used for cooking house masks. They help to cope with irritation and peeling of the skin, and pull it up and nourish it intensively.
For dry skin, the nourishing mask is ideal. To cook it, boil a few slices of pumpkin in the milk. Then rub them to a puree state and apply a copious layer on clean skin. After 15 minutes, wash with warm water. Repeat this procedure several times a week. After a few masks, you will notice that the skin has become much softer, more elastic and more even.
Owners of oily skin type can use raw pumpkin flesh. Rub it on a fine grater or chop it in a blender. Mix the resulting mush с крахмалом or oatmeal in the same proportion. Add to the mass 1 tsp. fresh lemon juice and 2 st.l. rubbed the flesh of tomato. The mask should be kept for 10-12 minutes and rinsed off with cool water.
For all skin types, a universal vitamin mask is suitable. Boil until ready to slice the pulp of pumpkin, mash it with a fork or chop it in a blender. Blend mush with natural yogurt or milk cream. If you have oily skin, add kefir. Massa put on the face of a plentiful layer and hold about 15 minutes. Remove the mask with a cotton swab dipped in boiled water, and wash with cool water or wipe the skin with an ice cube.
With sensitive skin, make a mask of raw egg yolk and 2 st.l. fresh pumpkin juice. In the received mass add 1 ч.л. bees honey, ground oat flakes and olive oil. Stir the ingredients thoroughly until a uniform consistency is obtained and apply a thick layer on the face. Wash off the mask after 20 minutes with warm water.