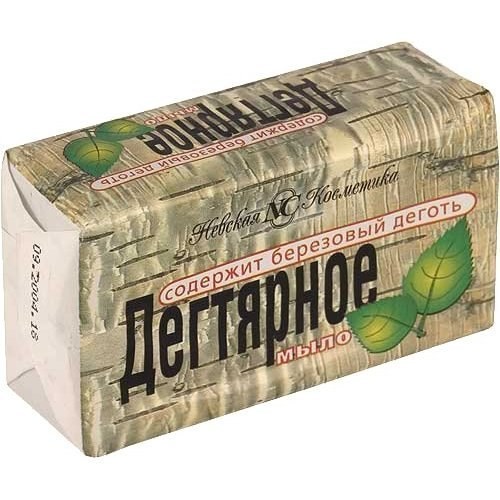 На полках любого супермаркета можно увидеть невзрачное и не очень приятно пахнущее дегтярное мыло. Стоит оно копейки, а польза от него огромна. В основе такого мыла – деготь, который широко использовали еще славяне. Березовый деготь считался целебным. Сегодня деготь нередко встречается в составе шампуней и кремов. Он является важной частью популярной мази Вишневского. Кстати, в дегтярном мыле дегтя всего лишь около 10 процентов.
Деготь, соединяясь с мыльной основой, усиливает приток крови к тканям, усиливает регенеративную функцию, восстанавливает эпидермис. Дегтярное мыло слегка подсушивает кожу, в результате прыщики, царапины и небольшие раны заживают быстрее.
Tar soap is a wonderful antiseptic. It has not only antibacterial, but also antiparasitic properties.
Cosmetologists often recommend it to those people who need to get rid of pustules, as well as acne. Soap with tar is indispensable in the prevention and treatment of dermatitis and psoriasis. In Soviet times, it was the most affordable and truly popular means against problem skin.
Why do I need tar soap?
Tar soap is medicinal. It does not intentionally add any fragrances and dyes. It is absolutely natural and cheap product that should be in every house:
– Soap with tar cleans deeply, dries and heals the skin;
– From tar soap, you can make masks once a week (for this it is enough to foam a piece of soap in your hands, then apply the foam on your face and hold it for several minutes, then rinse off with warm water);
– tar soap helps to get rid from acne on the face, back and other parts of the body;
– soap with tar – a remedy for the treatment of nail fungus (you can do soap applications or baths with soapy water);
– tar soap can wash your hair, because it strengthens the hair follicles, prevents hair loss, eliminates fatty gloss and dandruff;
В СССР некоторые женщины использовали дегтярное мыло для лечения заболеваний кожи и слизистых (молочницы, грибка, обильного потоотделения).
– tar soap is completely safe during pregnancy;
– soap with tar in the composition is suitable for domestic животных, которых необходимо избавить от блох, клещей или вылечить лишай.
Yes, the smell of such soap is very peculiar, but regular use allows you to abandon some (sometimes very expensive) cosmetics.
Противопоказания
For all its advantages, the tar soap has contraindications. They should not be used if you are allergic or have kidney problems. In addition, it is not recommended for people with thin and dry skin. If you regularly wash tar soap, then wash it with cool water, and then do not forget to apply a nourishing cream.
If you wash your hair with tar soap, discard from shampoo, but use the conditioner or a balm-conditioner. This will repel an unpleasant odor.
Эффект от дегтярного мыла проявляется не сразу. Возможно, после первого применения вы будете даже недовольны результатом. Но это не должно заставить вас отказаться от мыла. Улучшение наступает обычно уже через 5-7 дней.