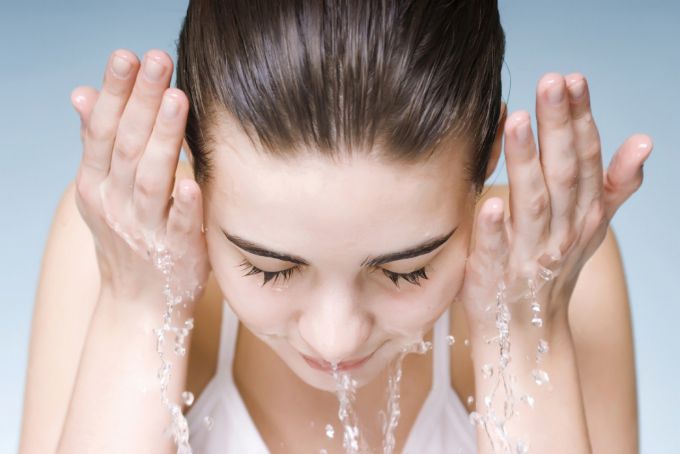 Beautiful and clean skin is always the result of a conscientious daily care. Enough to dream about the skin without greasy shine and pimples! It's time to learn how to properly monitor the problem skin.
1) Wash and clean the skin properly
Any skin care begins without fail with its cleansing. For the problem skin, a soft bio-gel for washing the face is best. Such a tool will gently cleanse the skin of excess fat, slow the production of sebum, and also give the face dullness.
After washing, it will be useful to rub the skin with a toner. Tonic (or lotion) will cleanse the skin of contaminants that have ingested more deeply into the pores. It is ideal to choose a tonic and a means for washing from one series. Thus, we will increase the effect of their action.
2) Additional peeling cleansing
Peeling for oily skin will be very useful, with its help will eliminate chronic contamination in the pores. The procedure is carried out after evening washing, before going to bed (so that the skin can "calm down" and relax). To clean the face with peeling it is best not more than 3 once a week. To wash off peeling skrab for the face is better warm water.
3) Masks for problem skin
Of course, for greater efficiency several times a week it is recommended to make special masks. These can be masks made of white, gray or blue clay. They will dry the skin, heal the inflammations formed and remove the greasy shine. Masks with the addition of clay are washed off with warm water. The number of such masks is 1-2 per week. After removing the clay mask, it is important to lubricate the skin with a nutritious cream so that it does not dry out later.
But it is worth remembering that oily skin also needs replenishment. Therefore, once a week it is useful to make a mask of fatty cream (you can add a little lemon juice to the cream, which will refresh and lighten the complexion).
Moisturize the problem skin is also important. Humidification is best done after peeling. For hydration, honey (1 tablespoon) and oat flakes (about 2 tablespoons) will perfectly suit. Ingredients are mixed and applied evenly on the face, after 15-20 minutes, rinse with warm water.
4) Ration
For beautiful skin, nutrition should be full. Avoid smoking, sharp and fried foods. It is best to eat dishes cooked for a couple or boiled. It is important to have in your diet greens, vegetables and fruits in raw form and drink a sufficient amount of mineral water (preferably without gas).