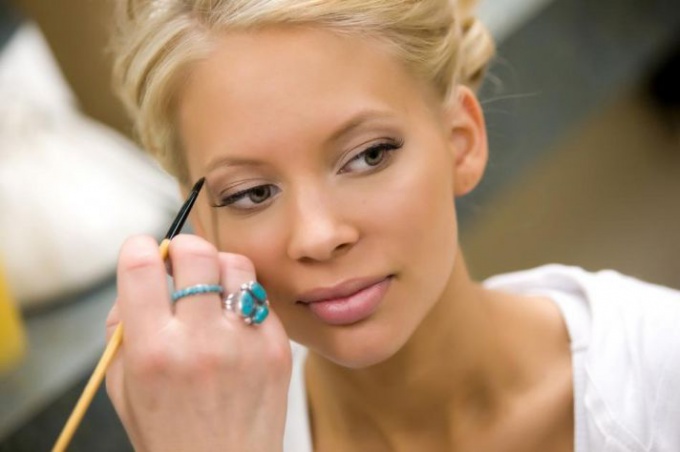 Как часто, покупая глянцевый журнал, можно залюбоваться макияжем модели, изображенной на обложке. И тогда кажется, что визажисты годами учатся этому искусству. И это правда. Однако научиться делать хороший макияж под силу каждой. Понятно, что люди, которые работаю с моделями, используют профессиональную и дорогостоящую косметику. Но, если разобраться, то для того, чтобы быть похожей на модель с обложки, не нужно годами тратить свое время, чтобы освоить технику нанесения пудры и тонального крема. Нужно всего лишь знать пару секретов правильного макияжа.
The secret of 1 is the maximum naturalness. At first glance, it may seem that there is no cosmetics at all. However, it seems that the face, as if shining from the inside. It seems that nature itself is guarding the natural beauty of women.
Секрет № 2. Красивая кожа. Начинать нужно с подготовки лица. Сначала нужно очистить лицо и нанести тональную основу. Необходимо следить за тем, чтобы тон основы не отличался от тона кожи. Пудру лучше брать с мерцающими частицами. Для тех, у кого комбинированная кожа, не стоит забывать про Т-зону. На нее необходимо наносит обычную матирующую пудру. Румяна нужно брать двух тонов. Более яркий тон румян необходимо наносить на нижнюю часть скул, более бледный тон – на верхнюю. Так скулы будут казаться более высокими.
The secret is 3. Expressive look. First you need to pick up the shadows. Correctly it can make only визажист, because it is done in accordance with the tone of the skin, the color of the eyes and the hue of the hair. However, this is under the power of each. To select shadows you need related tones: one is slightly brighter, the second a little paler, so that they blend and smoothly pass one into another.
To make the look more expressive, in the inner corner of the eye you need to put a small white dot with a contour pencil or light shadows. But this point should not be conspicuous and attract attention. It needs to be veiled.
Далее ресницы. Эффект густых ресниц создается объемной тушью. Но есть еще один маленький секрет: нужно подобрать карандаш, сходный с цветом туши. Им нужно провести по свободному пространству между ресницами по линии их роста. Затем им же откорректировать форму бровей.
And the last secret is No. 4. Sensual lips.
The finishing touch when creating a natural make-up is sensual lips. To make your lips look more expressive, you need to pick up a pencil in tone to your lips. Lips must be moistened with a brush. Remove excess lipstick with a napkin. That's the whole secret of the attractiveness of the naturalness of the lips.