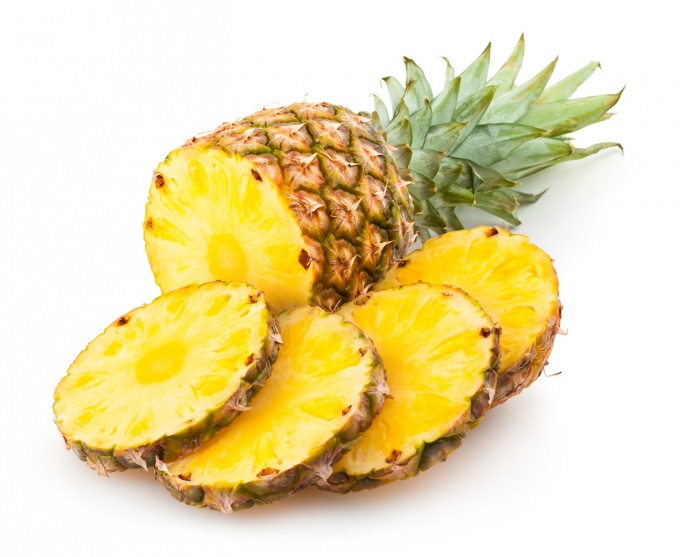 Pineapple is not only a very tasty fruit, but also very useful. It contains vitamins, such as: B1, B2, B12, PP and provitamin A. Pineapple pulp is rich in minerals – iodine, manganese, magnesium, calcium, zinc, copper, iron and potassium. Pineapple is considered an excellent source of nutrients in human nutrition.
1. The recipe for a cleansing mask from pineapple. Cut off one circle of pineapple, peel it from the peel and mash it well. Add 1 a spoonful of honey and a little oatmeal. All carefully mix. You should get a thick gruel. Apply this slurry evenly on your face and leave for 15 minutes. At the end of time, rinse with warm water.
2. If you have oily skin of the face, then wipe it with a slice of fresh pineapple in the morning and evening. You can also lay out the pineapple slices on the surface of the whole face. Lying minutes 15, and then rinse your face with cool water.
3. For this mask we need: pineapple juice – 4 st.lozhki, liquid honey – 2 ch.lozhki, yoghurt – 3 st. spoons. Take all the ingredients and mix. Give this mixture to infuse 5-10 minutes. After that, we wipe the face with this mask with an abundant layer. Then rinse with cool water after 15 minutes. Thanks to this mask, you will get rid of pigment spots and freckles.
4. Nourishing mask made of pineapple. You will need: a circle of pineapple – 1 pcs. pulp of banana – 1 st.lozhku, honey – 1 ch.lozhka. All thoroughly rub until homogeneous. This mass is spread on the skin of the face and hold for 10 minutes. Then wash off with warm water and moisturize the skin with a cream.
5. Recipe for moisturizing dry skin of the face: take 2 st. spoons of pineapple pulp and mixed with 2-me st. tablespoons of sunflower oil. Plentifully put a mask on your face and keep 10-15 minutes. Then rinse with warm water.
6. The pineapple mask is perfect for moisturizing your lips. We wipe a piece of pineapple lips, and then lubricate with petroleum jelly.