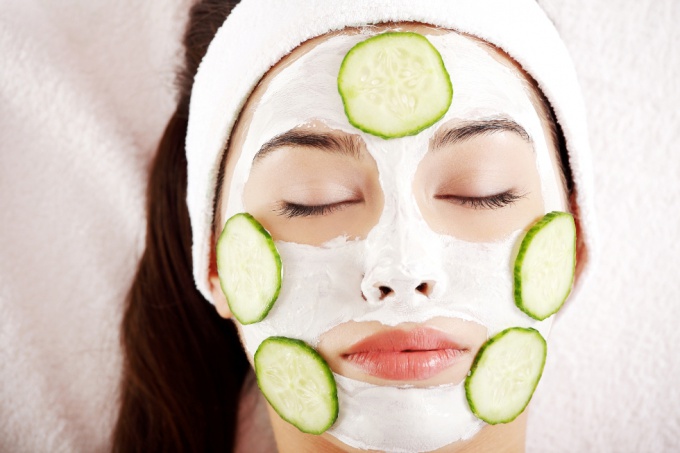 Mask of cucumber for the face instantly refreshes and tones the skin. Many women resort to this simple, but effective means for maintaining youth and beauty. Cucumber mask is able to return a radiant appearance in just a few minutes.
Composition and useful properties of cucumber
Despite the fact that the cucumber is used to be considered the simplest vegetable, it has a huge number of useful properties, therefore it is actively used in cosmetology. This mask is prepared in a few minutes, but magically transforms the skin.
The composition of cucumbers includes a large number of useful chemical elements, including:
– vitamin A, which prevents dryness and peeling;
– vitamin B1, which has a protective function and has a rejuvenating effect;
– vitamin B2 deeply cleanses the skin and allows it to breathe;
– vitamin B6, which stimulates metabolic processes at the cellular level;
– vitamin B9, saving from acne;
– vitamin C, which makes the skin supple and elastic;
– biotin H and tocopherol E, restoring skin cells;
– phylloquinone K, which has a calming effect and relieves redness and swelling, thanks to it, the cucumber masks have a whitening effect;
– niacin PP, giving the skin freshness and radiance.
The above mentioned vitamins are just a small part of the substances that make up the cucumber and give it truly miraculous properties. In addition to vitamins, this vegetable contains a lot of organic acids used in cosmetology. A mask made of cucumber for the face is suitable even for sensitive skin, as it does not contain irritating and allergic substances.
But still, like any other cosmetic product, it can have contraindications for use. Such a mask can not be used if there are open wounds, scratches, ulcers, etc. on the face. Also, before using this remedy, you should consult your doctor if you have dermatological conditions. In all other cases, the cucumber mask will make you more attractive and young.
Cucumber Masks Recipes
Mask from a cucumber for the face can be bleaching, rejuvenating, moisturizing or anti-inflammatory. Actually, cucumber masks have all these properties to some extent, but, due to the addition of additional components, certain properties are enhanced.
All the masks from the cucumber should be kept no more than 20 minutes, and then enough to rinse the face with warm, but not hot water. The simplest remedy is a cucumber, peeled or peeled, or cut into thin slices. The grated cucumber still has a more pronounced effect, as in this case a large amount of juice is allocated.
To get a whitening mask, you need to add a teaspoon of lemon juice or liquid honey to one tablespoon of cucumber mass.
An anti-aging effect will be achieved by mixing 2 tablespoons grated cucumber, 1 tablespoon of milk or cottage cheese, 1 tablespoon finely chopped fresh parsley and 1 teaspoon of olive oil. Instead of milk and cottage cheese you can use sour cream.
If the cucumber is simply mixed with sour cream in equal proportions, you get a mask of cucumber for the face with moisturizing and nutritional properties. All cucumber masks have anti-inflammatory properties.
Council
To obtain a homogeneous mass of cucumber and other ingredients, it is best mixed in a blender.
Before making a mask with honey or dairy products, check the skin for sensitivity on the elbow bend – some women are intolerant of these products.
Cucumber masks should be applied immediately after preparation.