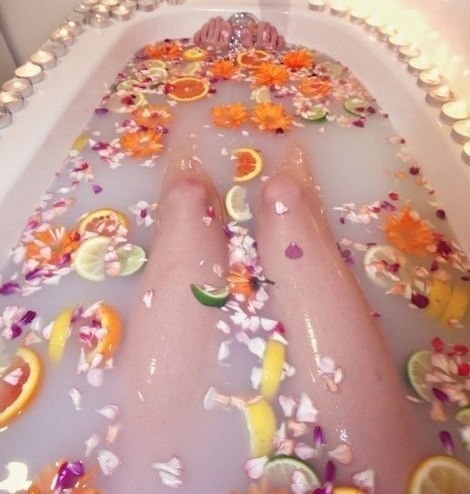 Many women like to pamper themselves with pleasant procedures, such as, for example, fruit baths. But such a bath can also be useful in the fight against hated cellulite. In the fight against cellulite, women resort to various tricks, one of such pleasant tricks is the reception of an orange bath. This procedure, combined with a massage of problem areas, which is convenient to spend on the skin after bathing, will help make the skin supple, elastic and more velvety.
To prepare the filler for the bath you will need 0,5 liters of milk, 4 oranges, 3 tablespoons of olive oil or any other cosmetic oils, wheat germ, grape seed or avocado oils are suitable for these purposes.
Апельсины следует вымыть и очистить от цедры, цедру можно бросить в ванну с теплой водой. Из самих же апельсинов нужно выдавить сок, смешать его с молоком и добавить в этот раствор масло. Далее эту смесь нужно вылить в приготовленную ванну.
Orange bath should be taken on a clean body, once a week. This bath perfectly stimulates and lifts the mood, allows you to relax, and besides can tone your skin.
After an orange bath it is good to make a light oil massage, in circular movements, rising from the lowest point to the higher one, this stimulates the blood flow without introducing dissonance into the body's work.