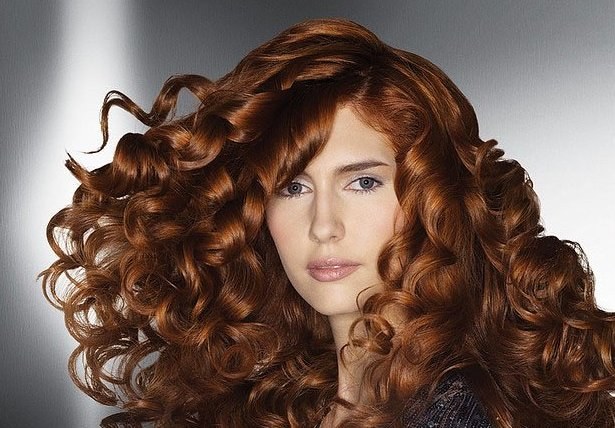 If a girl naturally curly hair, she often straightens them with iron. Those who got straight locks often want to have beautiful curls. In order not to put your head on daily, you can do biochemistry. It is best to look at a large chemical wave on long hair, since when they are curled they have the property of "jumping". Although different options are possible. The optimal length of hair for a curl – just below the shoulders. But a professional master can build a real masterpiece on a shorter head of hair. The main thing is to find out what the client wants.
Biochemical perm for long-haired girls
The easiest way is to apply a perm on long hair. Firstly, if a woman has not cut hair for a long time, they will be the same length, which will greatly facilitate the process of curling.
Secondly, it is on the locks below the shoulder blades that you get beautiful large curls that look very natural. With this type of biochemical hair, the hair rises at the roots and, starting from the middle of the length, fall smooth waves, the most intense twisting at the tips.
Particularly natural is the appearance of biochemistry on heavy hair, when under the weight of hair curls slightly straighten out and lie down in a natural "waterfall".
But for dense, uncut and unpainted earlier locks there is one minus – the biochemistry on them is kept very short.
Curl for medium curls
Biochemistry on medium-length hair looks somewhat different than on long hair.
Holders of hair to shoulder should remember that when curling hair will become somewhat shorter. Therefore, it is necessary to carefully select the diameter of the hairpin, based on the shape of the face and the type of appearance.
Small curls more suitable for women with small features – a narrow mouth, small eyes, thin face. In addition, this type of curl will shorten the length by half and instead of curls to the shoulders, there will remain hair that barely covers the chin.
Biochemistry on medium-length hair looks most appropriate with large curls. First, it almost does not shorten them. Secondly, creates an additional natural volume.
Biochemistry and short haircut
Many people think that the optimal length of hair for a curl – at least 40 cm. A biochemistry on short haircuts for some reason is associated with the hairdress of Soviet pensioners.
Today, hairdressers decisively debunked the myth of the incompatibility of waving and short hair. Stylists assure that it is enough to have curls 6 in length to accomplish biochemistry.
To look young and fervently, it is worth choosing a combined version. For example, curl the hair on the crown and temples, and leave the nape straight.
Particularly pleasing is the biochemical perming on a short hairstyle of women who do not have free time; it does not require styling.