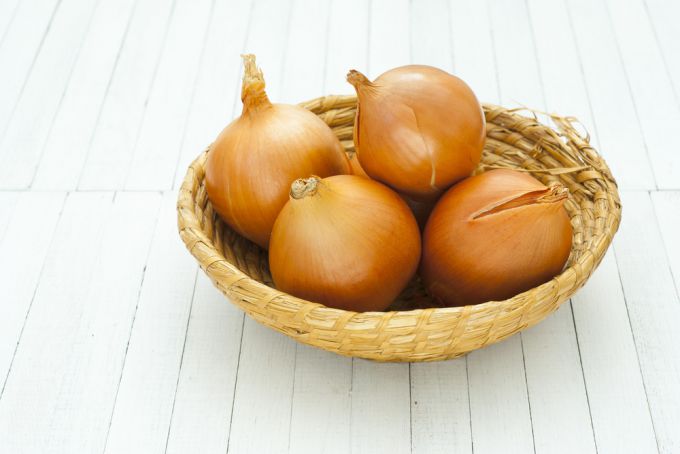 Since ancient times, women have used special hair masks, cooked on the basis of onions, in order to give their locks beauty, to support their strength and health. And this is completely unsurprising: onions are an invaluable storehouse of vitamins and trace elements that nourish and moisturize the hair. Nevertheless, the physiological characteristics of each person are strictly individual, and therefore do not forget about some contraindications to the use of onion hair masks. The use of onion masks is difficult to overestimate, because their main ingredient, onion, contains vitamins of group B (B1, B2, B6), C, E and PP, as well as trace elements, manganese, potassium, calcium, phosphorus, zinc, iron, fluorine , copper, iodine and cobalt. In addition, onions contain a large amount of phosphoric acid, biotin, carotene and keratin. It is rich in organic acids, and even in essential oils. Such a composition can rightly be called curative, because it nourishes the curls of hair, strengthens them, making them healthy and strong.
For example, onion masks in combination with honey, mayonnaise and olive oil are great for combating dropping hair. All these components contribute to the prevention of hair loss and their strengthening. Onions mask for hair is applied to the head in the direction from the roots of the hair and is distributed along the entire length of the curls. The duration of this procedure is at least one hour. The mask can be applied to the hair once or twice a week, or more often – every other day. Regular use of masks based on onions not only restores the natural strength and shine of hair, but also helps to get rid of dandruff.
Косметологи утверждают, что маски на основе лука подходят для любого типа волос, однако желаемый результат появится не сразу, а спустя некоторое время – после регулярного применения хотя бы 30 масок подряд.
Contraindications to the use of masks based on onions practically none. They are only contraindicated to people who have onions or additional components of the hair mask itself causing allergic reactions: it is recommended to check in advance all the components involved. This is done by lightly rubbing, for example, onions, honey or cucumber into the skin on the elbow. It is worth paying attention to the fact that the use of onion masks has a very fragrant character in the literal sense of the word: the onion smell is eaten into the scalp and into the hair for a long time.
Since the smell of onion masks is quite corrosive and retained on the head and hair for a long time (up to three weeks), it is recommended to apply them only during holidays, long rest, hospital, etc.
Therefore, such masks are not recommended for people who are constantly in the center of attention, public persons, office workers. However, experts have found a way out: they advise to fight with the pungent smell of onions on the head with the help of a water-acetic solution. It is necessary to mix apple cider vinegar (500 ml) and plain water (500 ml). When the onion mask is washed off with warm water, damp hair is carefully sprayed with the above solution. In this condition, the hair on the head should be kept no more than 3-x minutes, after which it should be thoroughly rinsed with shampoo.
Some cosmeticians say that you can not use a solution based on water and apple cider vinegar, but simply apply a few drops of any essential oil (for example, lavender) to the hair that smells strongly of onions – there will be no trace of the smell. It is worth noting that the physiological characteristics of each person are purely individual, so it is better not to take risks at all and for some time to refrain from onion masks, so as not to cause the public to be inadvertently reproached.