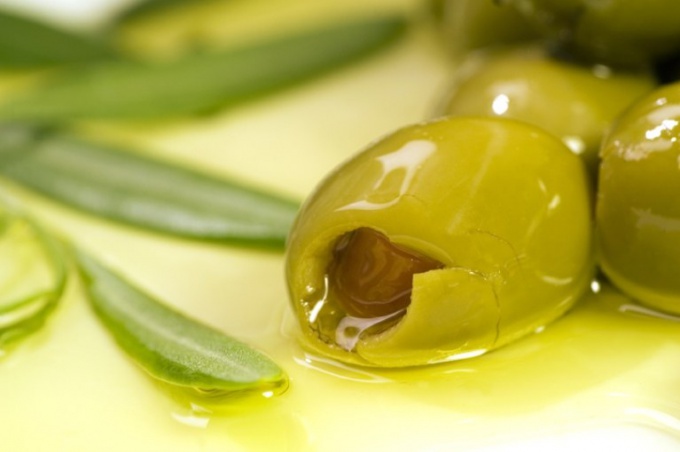 Stretching is an unpleasant problem that most women are familiar with firsthand. The reasons for their occurrence include pregnancy, sudden fluctuations in weight, premature aging of the skin, etc. Of course, you can get rid of long-standing strains only surgically, but less radical methods, for example, olive oil, can help with "fresh" strains. Olive oil feeds the cells with squalene, tocopherols, polyphenols, vitamins A, D and E, valuable organic acids and other components necessary to maintain skin elasticity. However, olive oil has regenerative properties: it slows the aging process of the skin. In addition, "liquid gold" removes toxins and slags, cleanses the skin and activates the production of collagen.
Using pure olive oil
When fighting with striae, it is recommended to use olive oil of cold pressing. Before use, "liquid gold" is heated on a water bath to 35-40оС. Apply the olive oil to the previously prepared skin of the problem areas with intensive massaging movements.
After such a massage, it is recommended to wear 7-10 minutes in the nude (the oil should absorb as much as possible), and then the remnants of this remedy should be removed with a dry cloth. The procedure is recommended to be carried out twice a day 1,5-2 a week. If necessary, repeat the course.
Cosmetics based on olive oil
"Liquid gold" can be used as a base oil. To prepare the product from stretch marks, you need the following components:
– 100 ml of olive oil;
– 100 ml of aloe juice;
– 5-6 drops of vitamin E.
The ingredients are mixed, after which the mixture is lightly whipped and applied massaging movements to the steamed skin of the problem areas. After half an hour they take a contrast shower. This procedure is recommended to be carried out twice a day during the crescent. If the cosmetic composition is not used at a time, the container with the remaining agent is placed in the refrigerator (the maximum shelf life of such a mixture is 3 days).
Remarkably cope with stria cosmetic product, the recipe of which is this:
– 2 st.l. olive oil;
– peel of one grapefruit;
– 150 g sour cream.
The zest is mixed with olive oil and sour cream. This mask is applied to the prepared skin, the body is wrapped around the food film and wrapped in a towel. After take a cool shower. This procedure should be carried out three times a week.
In addition, the cosmetic product prepared from the following components perfectly fights stretch marks:
– 50 ml of "liquid gold";
– 100 g coffee;
– 50 g of honey.
Ingredients are mixed and applied cosmetic slurry massaging movements on the prepared skin of problem areas. After 15-17 minutes, take a contrast shower. This procedure should not be done more often than 2 once a week.