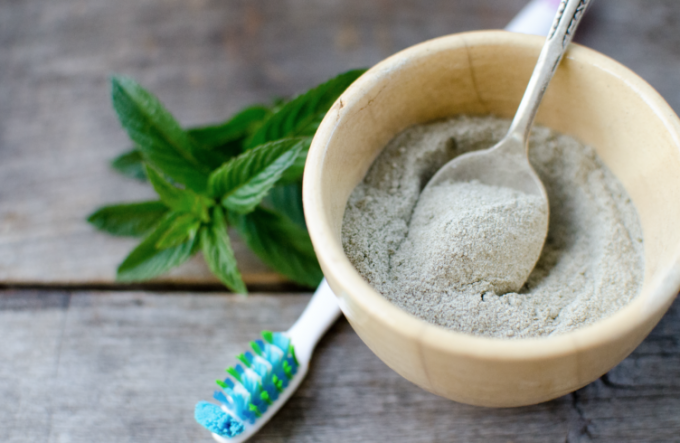 Create your own natural toothpaste with natural ingredients, which do not contain any harmful chemicals. Here are some recipes for natural toothpaste.
Toothpaste with turmeric and coconut oil  
You will need:turmeric and coconut oil
Preparation:Mix ? teaspoon turmeric powder with a little coconut oil.
Toothpaste with clay and soda  
You need: 4 tablespoons bentonite clay, ? teaspoon activated charcoal, ? teaspoon clove powder and 1 teaspoon soda.
Preparation: Mix all the ingredients with a plastic spoon in a glass jar.
Toothpaste with coconut oil
You need: 4 tablespoons of coconut oil, 3 tablespoons of bentonite clay, 2-3 tablespoons of filtered water.
Preparation: Mix coconut oil and clay in a small bowl. Add some water to adjust the consistency.
Tooth powder with mint and cinnamon  
You need: ? cup soda, 10 drops essential oil peppermint and 3 tablespoons cinnamon powder.
Preparation: Stir thoroughly soda and cinnamon in a bowl. Add the essential oil and mix again. Use as a tooth powder and store in a sealed jar.
Toothpaste with salt and sage  
You need: 2 tablespoons bentonite clay, 1 tablespoon sea salt, 1 teaspoon crushed dried sage leaves and a small amount of water to give consistency.
Preparation:Thoroughly mix all ingredients except water. To clean the teeth, first take ? tablespoon of the resulting powder and add a little water, forming a paste. Keep in a container.