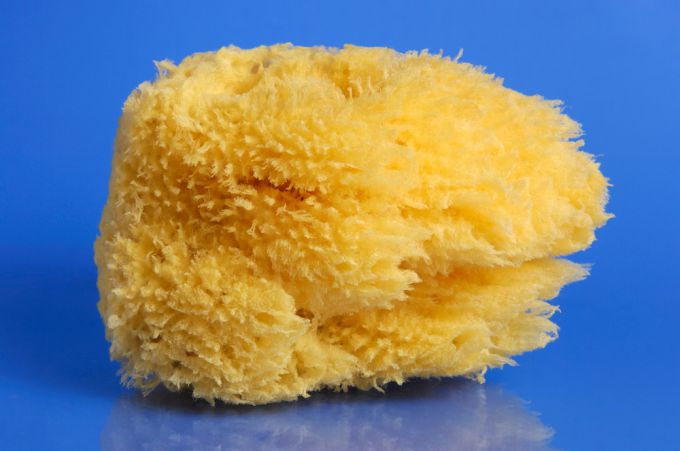 A natural sea sponge will provide quality skin care for the body. But you need to be able to use this gift of nature. With a sea sponge you can not handle the same as with the usual washcloths: there are rules for it. Sea sponge is a small invertebrate organism, which mainly lives in the Mediterranean Sea at a depth of 30-70 m. Most of the production of this organics is carried out off the coast of Greece. All work is done manually: catching the sponge, processing it, sorting.
Sea sponge is a unique gift of nature: in dry form it is hard like pumice, but after moistening it becomes incredibly soft and elastic.
If earlier the supply of sea sponges to pharmacies and stores around the world was limited to catching and sorting, today this organics began to be processed, giving it different forms and color shades. For this purpose, use natural dyes and special tools with a sharp blade.
The first rule of using a sea sponge is to avoid twisting it. Since this gift of nature is attributed to organic, the sponge is inherently a skeleton with special tissue properties. If it is actively twisted, the elastic joints will soon break down and the sponge will become unusable.
The use of a sea sponge to cleanse the face or body has a positive effect on the skin: blood circulation is activated, the epidermis is saturated with minerals contained in the organics, gentle scrubbing is performed.
Следующее правило ухода за морской губкой заключается в том, что она требует тщательного промывания после каждого использования. Это пористое вещество часто находится во влажном состоянии, поэтому в нем образуется среда, благоприятная для размножения болезнетворных бактерий. Не стоит забывать и о том, что вода в Средиземном море весьма загрязнена, поэтому из области своего обитания органика неизбежно принесет различные вредные вещества. Поэтому тщательная промывка необходима и новой губке.
The next moment, which you need to pay attention when using a sea sponge – is its proper drying. This organic substance should not be in the immediate vicinity of the heating devices. Undesirable for him and the sun's rays. Therefore, to dry the sponge is better to hang in the mesh near the place where the air moves. This can be a window or door, a vent, an extractor.
The sea sponge does not tolerate too much hot water. This should be taken into account when taking water procedures. Despite due care, in 3-4 months this organic material is largely worn out and needs replacement. This is easy to do: now it can be bought and the cost is not high.
The undoubted advantage of this unique marine organism is that it cleanses the skin much more efficiently than any foam or other washcloth. Especially good sponge for thin sensitive skin. This organics cleans it so gently that it is recommended for use in bathing newborns. Another advantage of the sea sponge is that it helps to save various means for the shower: to get a copious foam of a fairly small amount of soap.