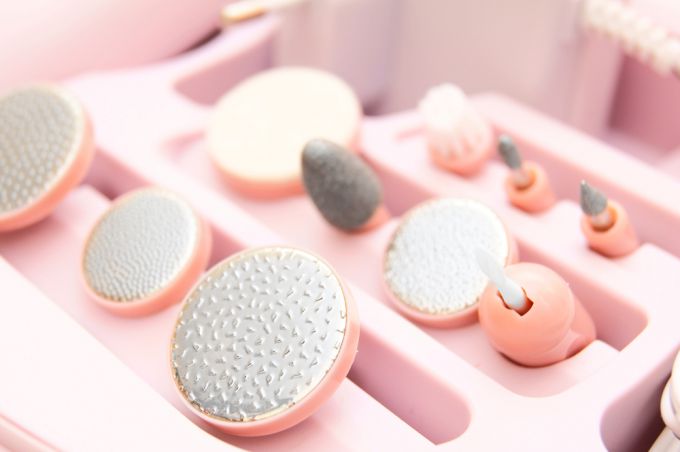 Уход за ногтями в домашних условиях существенно упрощается, если использовать специальные аппараты. Важно подобрать именно ту модель, которой вам будет удобно пользоваться.
Аппараты для ухода за ногтями носят название «машинки для маникюра/педикюра». Все существующие модели можно условно разделить на три большие категории: профессиональные аппараты, полупрофессиональные и для домашнего использования. Последние считаются самыми бесполезными, если требуется уход не только за ногтями, но и полноценный педикюр с обработкой кожи ступней.
The cost of the device affects: power, brand, the number of functions. So, for example, a powerful professional model is almost always 2 times more expensive than an unprofessional, equipped with a lot of additional functions.
For home nail care, you should pay attention to models that contain several devices in one. For example, a machine for manicure + dryer for drying lacquer + whirlpool bath. Such a multifunction device usually does not take up much space, but it successfully copes with complex nail care. First, you can make a steamer for the nails (hydromassage improves blood circulation in the fingers), then perform hardware manicure, and after applying the varnish it is also quick to dry it. If in addition there are also pedicure attachments, then the device will not be priced. Manicure and pedicure, with a small capacity of the device, can be carried out using mixed technology: first, "wet" procedures (soaking and steaming), then a hardware way of nail care.
The cost of such a device is not as high as one might think, since it usually belongs to the category of "machine for home use", and not to professional models.
Полупрофессиональные модели аппаратов для ухода за ногтями обычно несколько мощнее, чем для домашнего использования. Это означает, что пользоваться ими нужно с еще большей осторожностью, чтобы не нанести себе травму. Во-первых, необходимо правильно подбирать насадки для выполнения той или иной процедуры. Описание насадок и их предназначение можно найти в инструкции к конкретной модели. Во-вторых, если присутствует регулятор скоростей, то начинать работу стоит с маленьких оборотов, чтобы привыкнуть к аппарату. Кроме того, удаление, например, кутикулы рекомендуется всегда выполнять на небольшой скорости. Иначе есть риск выпилить бороздки на ногтях, которые будут причинять неудобства.
Полупрофессиональные модели обычно выпускаются универсальными. То есть, и для маникюра, и для педикюра. Это удобно для домашнего ухода за ногтями, поскольку можно обработать сразу и ноги, и руки.
Professional models of devices for nail care for home use to acquire irrationally. First, working with such machines requires experience and skill. Secondly, too much rotation speed of the nozzles poses a serious threat to the health of the nails. So, for example, one careless movement can lead to a complete sawing of the nail plate, which affects both its growth and its health. Professional models are an order of magnitude higher than other categories because they are designed for high workload and a variety of jobs. AT Home conditions there is no need to use such devices.