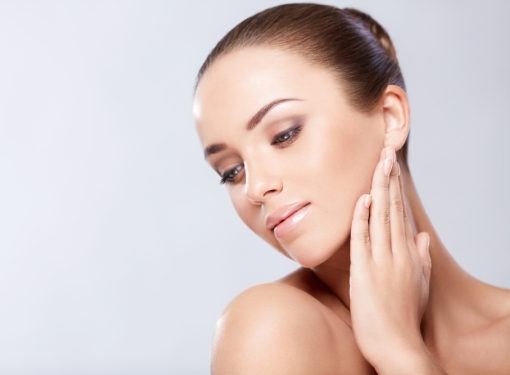 Still Cleopatra used a powder of blue clay to maintain her beauty. The fact is that it is rich in trace elements and other useful substances that help to achieve at home the same result as after professional salon procedures.
It is difficult to overestimate the therapeutic effect of blue clay. It saturates cells with microelements, stimulates metabolic processes and blood circulation, which improves the complexion. Using masks based on clay, you can clean the skin of black dots and get rid of acne. Visible result comes only with regular use. You need to conduct the procedures daily for 1-2 weeks.
There is no contraindication to the use of blue clay, except for individual intolerance. Owners of sensitive and dry skin are undesirable to apply the product in pure form.
Mask Recipes
To prepare a nutrient mask in the ceramic container, connect 1 tsp. Blue clay with the same amount of olive oil and honey. Then add the raw yolk of one chicken egg and mix thoroughly. Apply a smooth layer of the mask with a brush and wait 15-20 minutes. After the first sessions, the skin will become incredibly smooth and smooth.
To improve the complexion and make it dull, the following composition will help: 60 g of blue clay powder combine with table vinegar so that a mass of creamy consistency is formed. The mask should be applied evenly on the face, except for the areas around the mouth and eyes, and leave for half an hour. Rinse with warm water.
Whitening mask will get rid of freckles and age spots. You can prepare it by the following technology: mix in a glass or ceramic container the powder of blue clay with egg whites and 1 tsp. baking soda. The consistency of the finished mask should resemble sour cream. Keep the face on for 10-15 minutes.
To cure acne and calm the skin, mix a few clay spoons with a little boiled water. The resulting mass is combined with a pair of drops of olive oil, 1 tsp. lemon juice and raw egg yolk. Keep the face on for 15-18 minutes.