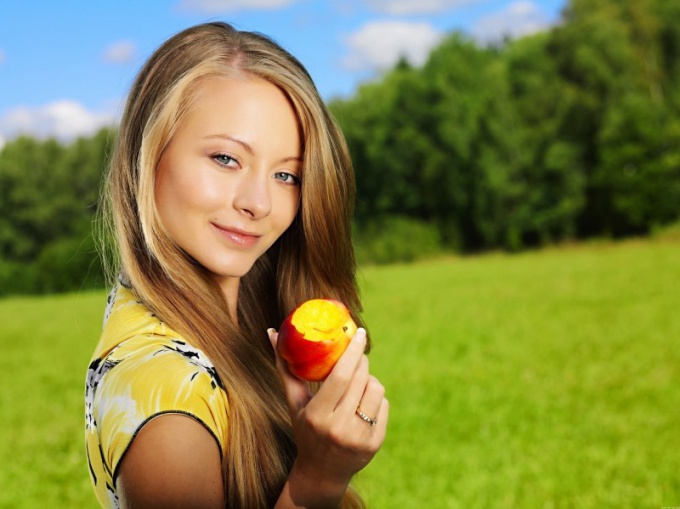 Peach is not only a juicy and tasty fruit, but also very useful. It is ideal for facial and body care. There are special masks from peaches, which can be cooked at home.
Mask of peaches for skin after sunburn
Мякоть двух или трех персиков смешайте с пятью столовыми ложками йогурта. Нанесите маску на лицо и тело и держите в течение примерно 15 минут. Затем умойтесь горячей или холодной водой.
Peach mask for shiny skin
In puree from 1-2 peaches add a tablespoon of orange juice, a tablespoon of yogurt and honey. Apply mask to face and hold 15 minutes, then rinse with warm water.
Освежающая маска для лица из персиков
Разомните 1-2 персика и добавьте ложку меда. Если ваша кожа сухая, добавьте также немного крема. Нанесите маску на лицо и накройте марлей. Через 20 минут смойте. Данная персиковая маска хорошо очищает поры, питает, освежает и успокаивает кожу после принятия солнечных ванн.
Mask of peaches for tired skin
Измельчите два персика в блендере, затем добавьте яичный белок и немного пшеничной муки. Нанесите полученную смесь на лицо и держите около 25 минут до полного высыхания. Затем промойте кожу холодной водой и нанесите увлажняющий крем.
Peach mask for body care
In the pulp of three peaches, add 2 yolks, a spoonful of milk, honey and two tablespoons of olive oil, mix thoroughly. Apply the mixture on the body in a circular motion and massage the skin for several minutes. Rinse the mixture with warm water and moisten the body with a cream that suits your skin type.
Rejuvenating bath from peaches
Thoroughly grind the blender 5-7 peaches, add a glass of milk or cream. Consistency should be liquid. Fill the bath with warm water and add the resulting mixture. Lie in the tub until the water begins to cool. Take a shower and, if necessary, moisturize the skin with cream or body milk. This procedure will help your skin for a long time to maintain firmness and a healthy hue.