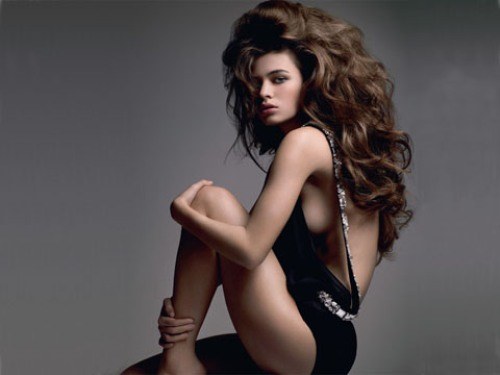 Not every representative of the weaker sex was awarded such a generous gift as thick and strong hair. If you fall into their number, do not despair, because you can correct the situation with the help of home remedies. Natural masks will not only give the hair the density and the desired volume, but also make them more docile and shiny.
The mask, consisting of cognac and eggs, is a real salvation for women with thin and lifeless hair. It provides a truly magical effect, giving incredible volume and healthy shine to the curls. In a glass container, mix 1 tsp. cognac, natural honey and burdock oil. Add the yolk of one egg and stir the food carefully. Mask with a copious layer on damp, clean hair and hold about 1.5-2 hours. To enhance the effect of the procedure, you can cover your head with a plastic bag and shawl. Repeat the mask should be 1 once a week.
Chocolate is not only a favorite treat for sweets, but also an amazing means for the density of hair. On a water bath, melt a few slices of dark chocolate. In the resulting liquid mass pour 200 ml of natural yogurt and 2 st.l. olive oil. Then add the raw yolk of one chicken egg. Wear a miracle mask on damp hair, cover the head with a plastic wrap and a warm kerchief. After 60-90 minutes, rinse with warm running water.
Quite often for the preparation of masks for the density of hair used a variety of medicinal herbs. Take the 1 st.l. dried basil, sage, mint and rosemary. The resulting collection, pour 250 ml of apple cider vinegar and add 2 drops of lavender and mint oil. Cover the container with a lid and leave it for 2 weeks. After this time, strain the infusion. Use the tool as follows: 2 st.l. on 1 a glass of water. Rub the solution into the scalp and the roots of the hair. Do the procedure for the night, and in the morning, rinse the composition with running water. To avoid soiling bed linen, put a shower cap on your head.