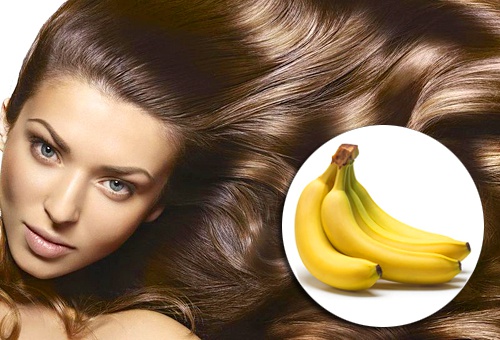 Fruits of a banana are a storehouse of useful vitamins for hair. It is important to consider who this mask will suit, what properties it has and how it works.
Bananas are exceptional in their composition: vitamins, beneficial substances and minerals, such as iron, vitamins B, C, E, magnesium, potassium and amino acids. They increase the elasticity and make your hair softer, give silky and return to life the most damaged hair.
A banana mask is suitable for brittle, lifeless and dull hair. Restores hair damaged by ironing, hair dryers and dry by nature. And if you add additional ingredients, the mask can help and fatty hair. It is also recommended for curly and curly strands, as they themselves have a porous structure.
A very important rule of the banana mask is its structure and consistency. It is not recommended to knead bananas with a fork, because small pieces will remain in the hair and wash them off will be a big problem. It is advisable to use a blender for this purpose for all other ingredients as well.
A mask should be made for the entire length of the hair, except for the roots. And for oily hair, they must be moistened with milk beforehand and squeezed out and only then put the mask on the roots. After that, wrap the entire head with a film or a packet and wrap it with a towel.
For a good result, the mask should be kept on the hair for at least an hour, permissible even two hours. After this time, the mask should be washed off with warm or even cool water, but not hot.
For dry hair
A teaspoon of honey mixed with the pulp of a banana and with the same amount of almond oil.
For oily hair
Soften the unpeeled banana with the peel and mix with a tablespoon of lemon juice.
For damaged hair
In the mashed banana pulp, drive in one yolk and add 10 g of sour cream, kefir or yogurt.
Repeat this mask at least once a week and after a month you will see a noticeable transformation of your hair.