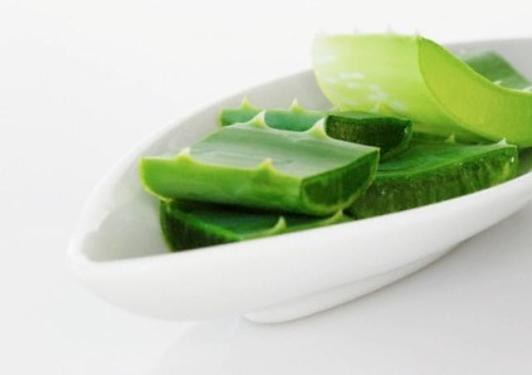 Aloe is an excellent natural remedy for home hair care. The juice of this healing plant moisturizes them, accelerates growth, stops the loss, removes the inflammation of the scalp and relieves dandruff.
Prepare hair masks from
aloe
you can easily in your own kitchen. To get rid of brittleness and dryness, mix 2 tbsp. fresh aloe juice with the same amount of peach or olive oil. In this mass, add raw egg yolk and 1 st.l. low-fat sour cream. Finished product massaging movements rub into the scalp and evenly distribute along the entire length of the hair. Keep the mask for at least half an hour, then rinse with clean water. At the end of the procedure, rinse the hair with mineral water with the addition of a small amount of aloe juice. For intensive moisturizing and restoration of damaged hair, a mask made of equal parts of honey, castor oil and aloe juice is ideal. The composition is carefully distributed over wet hair, put a polyethylene hat on your head and warm it with a handkerchief or a terry towel. After 30 minutes, rinse hair with running water and rinse with broth the roots of burdock, nettle or chamomile. Repeat this procedure is recommended at least once a week. With regular application, the hair will become elastic, elastic and shiny. With hair loss and slow growth, you can use the following mask: rub two yolks with 2 tbsp. juice of aloe and milk cream, 1 st.l. mustard powder. Apply the product generously to the scalp, put on a shower cap and warm it with a towel. It is desirable to grease hair ends with olive or any other vegetable oil. After half an hour, wash off the mask. For hair that is prone to grease, make a mask from the crushed leaves in the blender of aloe and alcohol. Components should be taken in the proportion of 5: 1. Several times a week, rub the product into the scalp and keep 15-20 minutes.