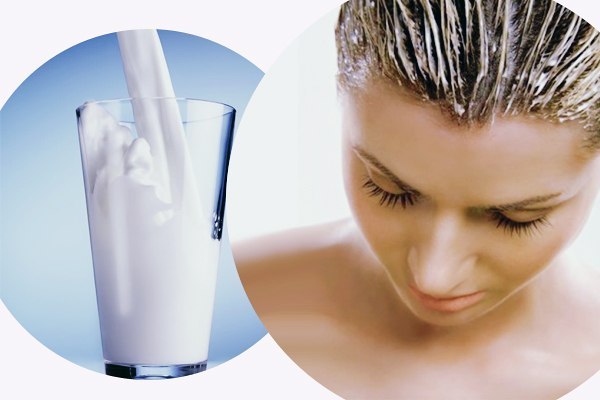 There are many products that people consume daily and do not even realize that they are capable of doing miracles with appearance. One of these products is kefir. Kefir hair masks are a magic tool that will transform dull lifeless hair into a luxurious head of hair.
Pleskva masks of yogurt
Mask for hair from kefir – inexpensive, but effective cosmetic means. This sour-milk product is rich in useful substances that are necessary for hair:
• protein and calcium strengthen the hair and restore its structure;
• yeast gives the hair volume;
• vitamins nourish.
In addition, after using this remedy on the hair, there remains a film that is invisible to the eye, which retains moisture inside the hair shaft and prevents overdrying when using styling tools and protects from sunlight.
Mask for hair with yogurt – an incredibly effective tool for caring for damaged hair. But when using this remedy, it should be remembered that kefir contains lactic acid, which adversely affects the pigment, and therefore use kefir masks is not recommended on dyed hair. But do not expect to become a blinding blonde. With frequent use of this tool, your hair will lighten only a few tones.
The most common mask for hair from kefir is the use of only this product. Lubricate the hair with kefir over the entire length. remove them under a cellophane cap, warm them with a towel or scarf and leave for at least an hour. After kefir mask, rinse hair thoroughly with warm water with a usual shampoo.
Knowing the properties of kefir and other useful ingredients, you can independently make beauty recipes for your hair. Brewer's yeast and mustard stimulate blood circulation in the scalp. Add them to the kefir mask, you will forget about hair loss. Essential oils moisturize and nourish the hair, and therefore, after using the kefir mask with essential oils, your hair will become obedient, soft and lush. Egg yolk is rich in proteins necessary for hair growth, and olive oil is a real storehouse of nutrients. Decoctions of herbs have long been used in cosmetology, as an effective tool for the care of hair and scalp.
Recipes of kefir masks
The most effective are kefir masks for dry and damaged hair, but this does not mean that they can not be used for other types. For oily hair, a mask of kefir with dry mustard and honey is perfect. To make it, you will need half a cup of kefir, according to 1 a teaspoon of dry mustard, honey, almond (or burdock) oil, a couple of drops of essential oil (for flavor). This mask should be kept on the hair for no more than half an hour, and after use wash off with warm (but not hot) water with a normal shampoo. Mustard dries the hair, and therefore before use, brush the ends of the hair with olive or other vegetable oil.
For dry hair, a kefir mask with yolk and olive oil perfectly fits. Such a tool on the hair keep at least 1 hours, and then washed off with warm water and shampoo.
For all types of hair, a mask of kefir mixed with boiled milk is ideal. Mask for hair from yogurt with milk is prepared for 2 days before use. In 1 a glass of boiled milk at room temperature, you should add 2 teaspoons of kefir, stir and put in heat. Such mask on kefir for hair is used 30 minutes and washed off without shampoo.
Means for hair from kefir with broths of herbs are prepared by mixing the ingredients in equal proportions.
When writing your own kefir mask recipe, remember that many products have a brightening effect. Such products include mustard, cinnamon, cucumber and lemon juice.