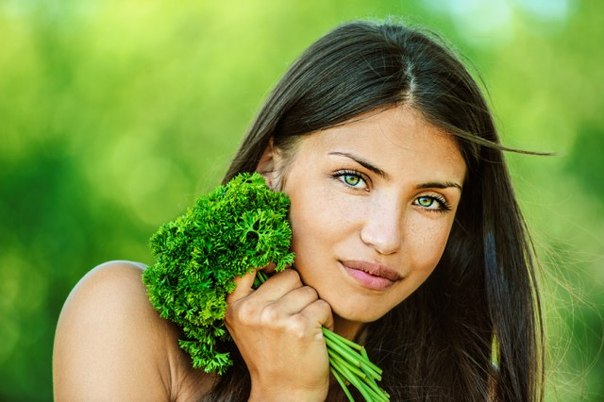 Spring is time for young garden greenery. The first green is rich in useful substances that can transform not only from the inside, but also from the outside.
Mask with sorrel
Grind 1 the middle sheet of sorrel together with the stalk into a homogeneous slurry, mix with 1 st. spoon of low-calorie cottage cheese and whipped egg whites. The mask is applied to the cleansed face and neck skin with a thin layer for 15 minutes, then rinse the mask with warm water and pat the face with a paper towel.
Mask with sorrel well eliminates greasy shine, narrows the pores and has a light whitening effect. Good for normal and combination skin.
Mask with parsley
It is necessary to crush 1 st. a spoonful of parsley leaves, and add them to the pre-prepared pulp of rye bread soaked in warm milk. Squeeze out excess liquid with your fingers and apply on a clean face for 15 minutes, wash off the mask with cool water and apply your moisturizer.
Mask with parsley has a whitening effect, it is able to lighten freckles and spots from acne. In addition, the mask gives the face a fresh healthy appearance.
Mask with dill
Grind 1 a spoonful of fresh fennel greens, add to it 1 a spoonful of oatmeal, 1 a spoonful of curd and dilute the resulting mixture with a few drops of boiled water until the consistency of thick gruel. The mask is applied to the face, avoiding the area around the eyes for 10 minutes, washed off with cool water.
The mask with dill has a strong toning effect and narrows the pores.