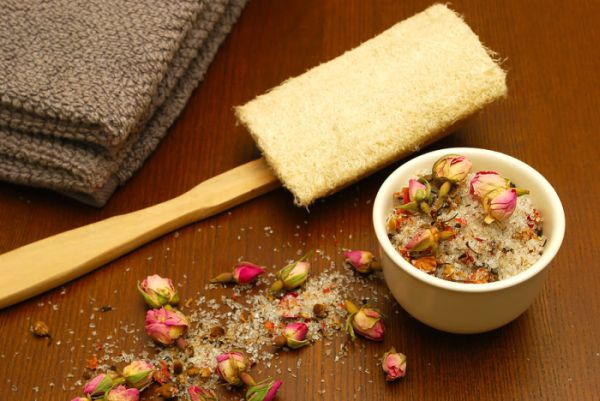 Raise your mood, save youth and beauty will help hike in the sauna. And, of course, a self-respecting lady will not miss this opportunity and will give her appearance a few minutes. There are many recipes for masks and scrubs that can be used in the sauna.
Скрабы для сауны
1. With honey and cinnamon. This is an effective tool that can be used to care for the face and body. For cooking, mix honey and cinnamon in equal proportions. Put the product on the skin and massage gently. Wash off the scrub with warm water.
2. Of orange peels. Dry orange peel grind in a coffee grinder. Ready powder mixed with water until the formation of a mushy mass. If you have dry skin, use olive oil or sour cream instead of water.
3. Coffee scrub. Coffee grounds should be mixed with thick cream or unrefined olive oil. Handle the face and body.
Masks for sauna
1. Hair Mask. Mix 3 tbsp. Burdock oil with 1 tsp. glycerin, shampoo and apple cider vinegar. Mask spread throughout the length of the hair, wrap the head with polyethylene and put on the bath hat. After half an hour, rinse the product.
2. Mask for the body. This means increases the tone of the skin and helps in the fight against cellulite. For preparation, take 5 st.l. grape juice. Mix it with 1 tsp. honey and 1 st.l. oatmeal. Apply the mask to the problem areas and hold 10 minutes.
3. Mask for the face. To give the skin elasticity and a radiant, healthy color, a remedy prepared from 1 tsp is suitable. any vegetable oil, egg yolk and 1 st.l. brewer's yeast. Hold the mask for 10-15 minutes and rinse.