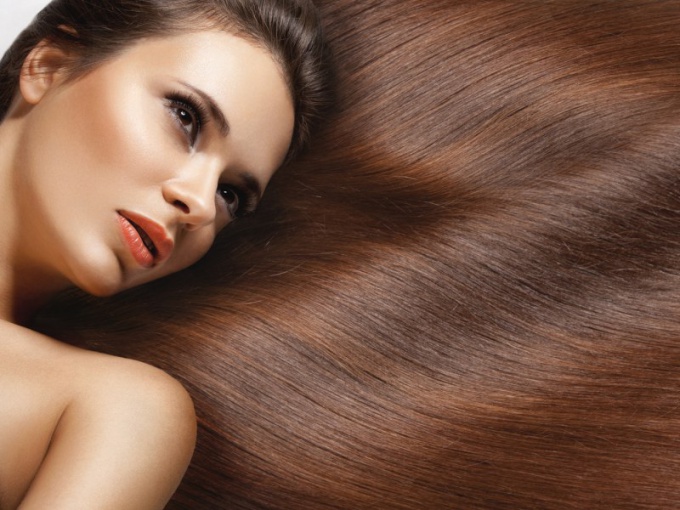 Если волосы стали ломкими, ослабленными или слишком сухими, не спешите посещать дорогие салоны красоты или покупать разрекламированные косметические средства. Помочь шевелюре стать привлекательной и приобрести здоровый вид могут натуральные домашние маски. Особенно эффективна в этом случае желатиновая маска для волос.
Поскольку желатин получают из белка соединительной ткани – коллагена, в нем много протеина, оказывающего потрясающее воздействие на шевелюру. Покрывая волосы тонкой пленкой, желатин насыщает их ценными элементами и восстанавливает структуру.
Mask for hair from gelatin (effect of lamination of hair)
The recipe for this cosmetic mixture is:
– 1 st.l. gelatin;
– a little shampoo;
– 3-4 st.l. warm water.
Gelatin is poured with water and left until it swells. To speed up this process, a container with a mixture is placed on a water bath. When the gelatin is dissolved, a little shampoo is added (this is done to make it easier to apply the mask to the hair) and mix the ingredients well. The nutrient mass is applied to moist strands, top covered with a plastic bag and warmed with a towel. This amount of nutrient mixture is sufficient for laminating hair up to the shoulders. If the hair is longer, take 2-3 st.l. gelatin and more water. Keep this mask from 13 to 27 minutes. Wash off the mask with warm water without shampoo. This cosmetic procedure is recommended to do 1-2 once a week.
Комочков быть не должно: они очень сложно вымываются с волос.
Gelatine mask, accelerating hair growth
To prepare this nutritional composition, you will need the following ingredients:
– yolk of a hen's egg;
– 1 tsp gelatin;
– 2-3 ст.л. теплой воды;
– 1-1,5 tsp mustard;
– 1-1,5 tsp colorless henna.
Gelatin is poured with warm water and left to swell. Next, the mixture is enriched with yolk, henna and mustard, after which all components are thoroughly mixed. The mass is applied to wet strands, covered with a polyethylene film on top of the head and wrapped in a towel. Leave the mask for 23-27 minutes, and then rinse with water at room temperature without using a shampoo.
With intense loss of hair instead of water, it is better to take a decoction from the root of burdock, and for dandruff – a decoction of birch leaves or the root of ayr.
How to prepare a mask from gelatin, nourishing and moisturizing hair
To prepare this medicinal composition take the following components:
– 1 st.l. honey;
– 1 st.l. gelatin;
– 1 st.l. a warm herbal decoction (from sage, chamomile or nettle).
Gelatin is dissolved in herbal decoction, after which the mixture is enriched with honey. Insist composition 17-20 minutes, and then cover their hair (basal system and strands along the entire length). Cover the head with a plastic bag and put on a woolen hat. After 28-30 minutes, the gelatinous mass is washed off with warm water.