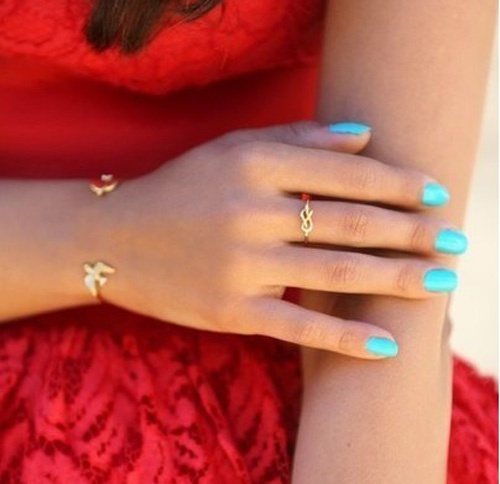 A coral dress is a bright and bold outfit. When choosing accessories and makeup under a dress of this color, you should not bypass the manicure – an important part of the female image.
First you need to think over a harmonious image that is suitable for a particular situation. For example, a hike with a loved one in the cinema, a walk with friends – here the flight of your imagination is boundless, because coral is a color that harmoniously coexists with almost all colors. But we will consider the most effective combinations.
Coral with yellow
A bright and unusual combination, which in recent seasons is very important. For evening outings, you can cover the marigold with gold lacquer or create a combination of coral and golden fragments. It can even be a variation of the French manicure.
Coral with gray
A good combination, neutral gray emphasizes the brightness of coral. Add a shine to your image – cover the gray lacquer with sequins or simply use a silver lacquer.
Coral with turquoise
A contrasting combination of two colors attracts attention. Coral dress, turquoise nails and accessories in a ton of marigolds – everything, the image is complete!
Coral with beige
Elegant and calm classics. Under the coral dress beige manicure fits perfectly – it always looks good. This is a good option for business lunches, corporate parties, official meetings. Hands will look feminine, well-groomed.
Coral with purple
Effective combination – it will give an image of playfulness. A deep purple manicure is suitable for an evening coral dress.