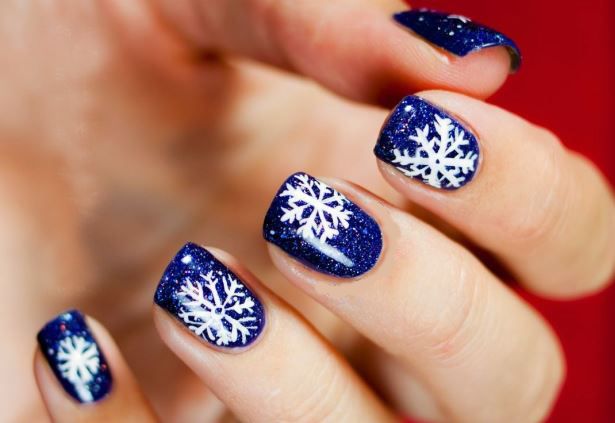 What kind of New Year manicure can be in 2018 year and what colors to choose to meet the Year of the Yellow Dog?
Since it is a question of a New Year's holiday, that is a winter holiday, it's easy to understand which colors will be popular among girls.
In 2018, the manicure of white, blue and blue will look great. It's all those colors that will remind you of the winter colorful sky, snow and that magic coming along with the New Year. You can also combine these shades – they perfectly harmonize.
There are other popular colors that you can use – it's dark malachite, and also the color is soft green or coniferous. They are associated with forests and the New Year tree.
Black manicure will always be a classic for any occasion. True, on New Year's Eve he will be stressed strict. Therefore, you can add to them a golden or silvery shine, reminiscent of the starry New Year's sky.
If there is a desire, you can use patterns, snowflakes, glitter or other elements of decoration. They can decorate or some, or all the fingers.
Features of manicure in 2018 year
2018 year is a year not just Dogs, but Yellow Earth. This moment can set a unique trend. Dog likes quiet colors. She likes golden, earthy or brown shades that match the nature of the Dog.
Therefore, if you need to choose a holiday manicure for the New Year, you can take a golden, yellow and beige tones. It is important to remember that colors and shades are not provocative or very bright. Brightness and extravagance – this is not what the patron 2018 year likes.