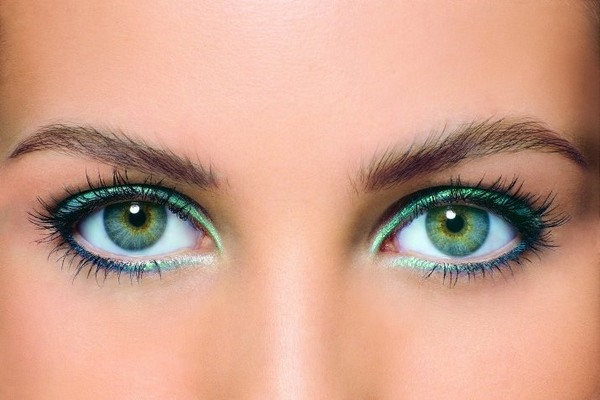 Deep emerald shade of the eye is not common, if you are the owner of such – you are lucky, not for nothing that green poets and writers are glorifying. It is possible to emphasize the beauty of witchy eyes with the help of competently made makeup.
The color of green eyes varies – gray-green, brown-green, blue-green. Green-eyed beauties can enjoy a large palette of shadows. Particular attention should be paid to brown shadows, especially to chocolate shades. The combination of brown-green eyes with golden and brown paints make the eyes especially bright.
Violet shadows will visually increase the gray-green eyes, for evening make-up will approach lilac with a metallic luster, and in the daytime it is quite appropriate to light purple matte. Reddish scale also should not be ignored. Brown, orange and pink shadows accentuate the color of the eyes due to contrast. Can step by step make such a make-up: on the inner eyelid, apply a pink color, then apply brown shadows, and in the lower eyelid walk through the green. For eyelashes should choose dark brown mascara. Evening make-up looks great in gold and copper.
Restrained make-up in gray tones, plus a line of green pencil on the inside of the eyelids will make the gaze shine. Do not use shadows that match the color with the eye tint, this will muffle their shine.
A rigid stroke around the entire contour of the eye reduces the eyes, but if they are light green, bright and with a pure protein, then this makeup looks very impressive. Eyes framed by thick black eyelashes look like an emerald in a frame. This "combat coloring" is contraindicated to the owners of small and deeply planted eyes, they will completely drown. If the eyeliner has made the eyes narrow, take a cotton swab and shade the line, this technique visually reveals the eyes.