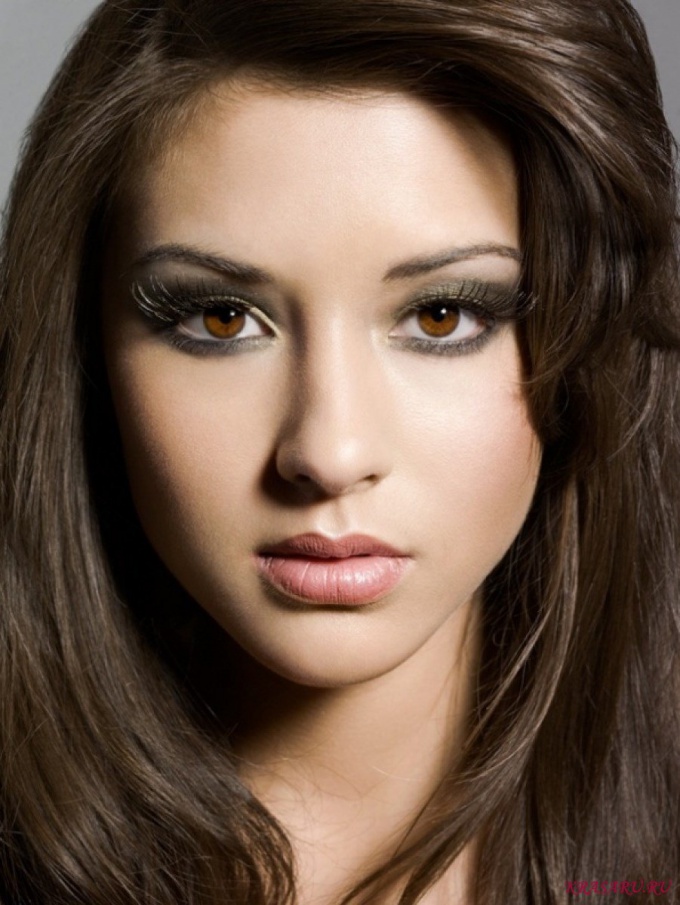 To make the makeup really beautiful and successful, you need to consider all the details: the type of person, the image, the style of clothing and, of course, the color of the hair. It is important to remember that blondes, brunettes and red-colored makeup should be chosen completely different. Only taking this into account, it will be possible to create the most natural image.
For bright and spectacular dark-haired girls, make-up should be chosen with special care. Brunette curls in themselves are a strong accent, that's why makeup tones should be restrained and calm.
Tone and powder
You can safely experiment with dark shades of foundation and powder. "Tan color", "nutty tone", "tender bronze" – all these colors will highlight the face and erase the sharp line between his pallor and dark hair color. Before applying a tonal remedy, it is worth using an easy moisturizer. The cream is applied gently on the face as soon as it completely dries, you can proceed to the next stage of make-up.
A beautiful shimmering color will give the skin bronzing powder. To apply powder conveniently large soft brush – easy movements on massage lines.
rouge
Owners of light eyes (blue, green) make-up artists recommend using dark shades of blush, for example, chocolate. Dark-eyed brunettes are suitable peach blush (but put them only on the top of the cheekbones).
Eyes
Brunettes need to choose eye shadows of neutral shades: beige, gray, green, chocolate (depending on eye color). If you plan to use shadows of two colors, then they should be contrast. For example, chocolate and cream or green and dairy. Ink and pencil is best to choose the standard black color. For an effective look, it will be sufficient to draw a neat line in the upper and lower eyelid with a pencil. And, in addition, it is the brunette can experiment with all sorts of arrows.
lips
Dark-haired ladies are almost all shades of lipstick: from red and ending with light pink. Especially spectacular on the lips of girls with the type of appearance discussed will look brown and cream shades. But whatever color was chosen, it's worth remembering a little trick: before you can apply lipstick on your lips, you need to carefully draw them around the outline with a light brown pencil. This will add sponges and clarity to the sponges.