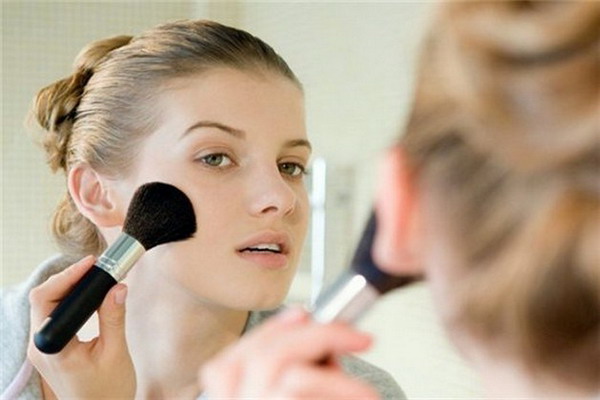 Despite the fact that smoky eyes are still popular in fashion, going to school / university in the morning, it is better to choose a-la naturel make-up. Natural makeup will only emphasize the natural beauty and will not distract from the inner.
Youth synonym with naturalness. This is a huge dignity, which many young people are embarrassed and try to hide under a large layer of decorative cosmetics. In fact, the young face always fine and allows you to save on the means of decorative make-up. You can only mask problematic spots and pimples with redness. If there is a desire, you can correct the shape of the face.
To the choice of decorative cosmetics, as well as to the choice of perfume, clothes, shoes, it is worth taking seriously. Do not use the first available funds. We must try to find something that is right for you.
First of all, after awakening, prepare the skin for applying makeup: wash, use a cleansing tonic and moisturizer.
Put the concealer on the problem areas and blend it.
Than to excruciate a skin "heavy" a voice-frequency cream, it is better to use powder. It is almost invisible on the face. When choosing a powder, consider your skin tone – the color of the powder should match it by almost one hundred percent.
In your makeup use peach blush or light pink. They will help to form an oval face, rather than reinforce the resemblance to the doll. Then draw a brush with blush on the chin and tip of the nose. Extremely. To blush lying evenly, make the lips a bow and draw the cheeks – on the resulting dimples and overlay them.
To give freshness to the face, shimmering shades of light gray, peach, beige color are superimposed on the eyelids.
From podvodki, as well as from a black pencil for eyes, it is better to abstain: they will give age. If you need them, choose a brown color.
Eyelashes are also better to tint in brown. Two layers are enough to give the look expressiveness.
Instead of lipstick, you can use shine. Flicker on the lips will complement the image of a young and pretty girl. For an educational institution, caramel, peach, light pink and beige shades will suit.
If you are a fan of serials and films, then surely the trend of natural make-up does not remain unnoticed by you. If the heroines of films have chosen their own natural images, one can be sure – using cosmetics correctly and accurately – without attention will not have to stay.