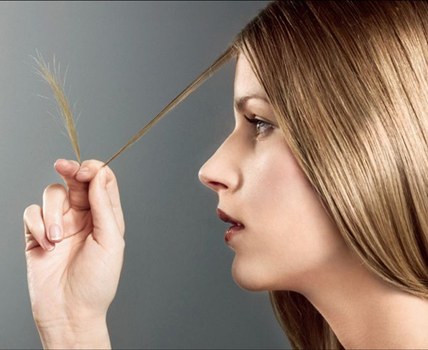 Seeding tips are one of the most common problems with hair. Experiencing this is not worth it – to help come a few home recipes. Magic masks, which can be done once a week, will save the beauty of your hair!
1. Mask based on sour cream. We will need: 100 g sour cream with a fat content of 20% and 1 st. spoon of olive oil. Thoroughly mix the ingredients and apply to the hair from the roots to the tips. On top put on a cellophane cap and wrap your head with a towel. After an hour, wash the mask in warm water.
2. Mask of honey, butter and eggs. Ingredients: 2 Art. l. olive oil, 1 st. l. liquid honey and egg yolk. Thoroughly mix the ingredients, apply over the entire length of the hair. Leave on 20-25 minutes, then rinse off with cold water.
3. Mask of yogurt. Apply warm curdled milk to hair and scalp. The exposure time of the mask is 30 minutes.
4. Mask with horseradish and sour cream. Ingredients: horseradish root – 1 pcs., 1 st. l. sour cream 20%, vegetable oil – 1. Mix the grated horseradish, sour cream and butter, apply the mixture on the roots of the hair and distribute it along the length. After applying the mask, wrap the hair with polyethylene, wrap the towel and leave for 30 minutes. Wash off with warm water and shampoo.
5. Mask with almond oil. Mix 2 art. l. cream, 1 tsp. almond oil and 2 tsp. lemon juice. Apply the mask on clean hair, put on a plastic cap, wash it off with warm water after 30 minutes.