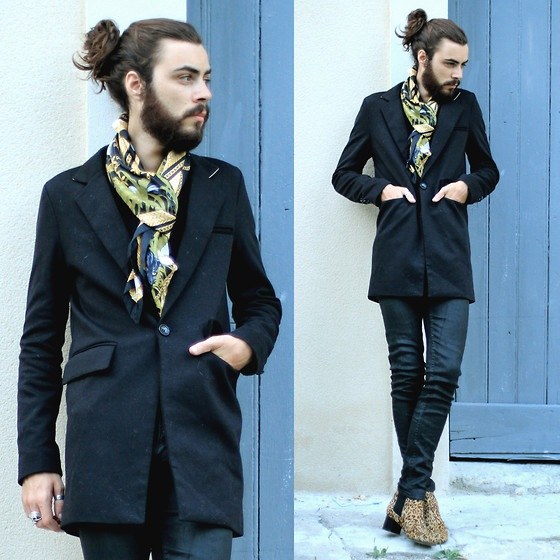 Long hair in men again in a trend. Stylists are advised to use for such a case hairstyles in the style called grunge. With such a haircut, you definitely will not go unnoticed. It should be borne in mind that such hairstyles harmoniously look only at dense, as well as curly hair. Hairstyles for long hair are visually made the face already, also they are capable to soften sharp features, giving to the person of grace.
For a basis for a hairdress it is possible to take various variants of hairstyles: a cascade, a ladder, and also an asymmetric cut. Stylists who have extensive experience prefer to build on the structure of the hair itself, making a haircut. For those who have rare hair and hair, hairdressers are not advised to grow very long hair, as this will not look aesthetically pleasing at all.
On long hair stylish and modern look hairstyles with an asymmetrical and elongated bangs. Such haircuts are preferred by creative people. They will be relevant at concerts and parties. Not many young guys choose asymmetrical haircuts, since they require special care and need constant packing, which takes a lot of time.
Classic hairstyles
Classic style is always relevant. Hair at the same time should have the same length and a small and neat parting. Also this style suggests the ability to comb the hair back or make a tail. This option is ideal for people who lead an active lifestyle. Believe me, in this form, you will look stylish and creative enough, the main thing is to choose a hair style correctly.
Grunge Style
Grunge style implies the presence of careless and not very neat hairstyles. This season, this style is most popular. To understand how a hairstyle should look in this style, you can see pictures of Kurt Cobain, the creator of the grunge style in music. In most cases, hairstyles have disheveled hair.
Stylists in this case advise young guys to use special styling tools to fix the hair. Haircuts in this style look pretty good on thick and wavy hair.
Punk style
Designers have provided this season a variety of hairstyle options for long hair. You just have to make a choice. To find a hairstyle, you can contact a professional stylist. If you like unusual haircuts, then pay close attention to punk style haircuts. They are distinguished shaven temples and strands that fall to the face. Believe me, in this image you will look pretty stylish.
Dreadlocks
If you like to surprise others, then you can give preference to dreadlocks. The truth behind them requires special care. Initially dreadlocks were worn by Rastafarian. Currently, this hairstyle is popular among musicians, artists and teenagers.