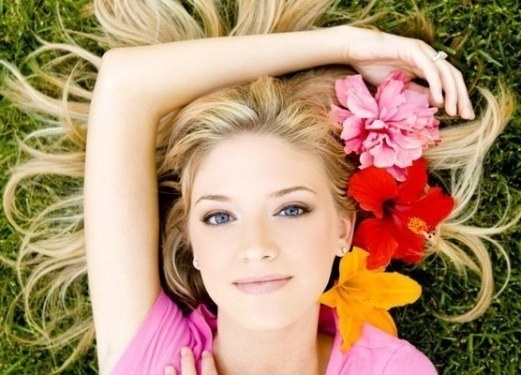 Cinnamon is a popular spice that has found wide distribution not only in cooking, but also in cosmetology. Generous mother nature has given modern beauties a wonderful opportunity to use it to lighten hair. In addition, the cinnamon is able to give the locks a healthy shine and beauty.
The very tradition of lightening cinnamon hair goes back deeply into antiquity. In ancient times, Roman matrons sought by any means to give the locks a light tint and become irresistible blondes. However, do not forget that clarification by natural means requires patience. To achieve a visible effect, several procedures may be required. The exact amount depends on the condition and structure of your hair. In addition, cinnamon can not
magical
way to turn you into a blond beauty – lightening occurs only on 2-3 tone.
So, to prepare a miracle composition, mix in a ceramic or glass container ? cup of any finished balm or hair mask with 2-3 st.l. ground cinnamon. Next, the product should be evenly applied to curls, collect them on the vertex and cover the head with a plastic bag. To achieve the best effect, you can wrap it with a warm kerchief or a terry towel. When 30-40 minutes pass, remove the heater and polyethylene, and keep the mask for 3-4 more hours. After thoroughly rinse hair with a jet of warm running water. To give them an attractive shine, rinse with slightly acidified water. Dry hair naturally. After such a procedure, the curls will become not only lighter, but also will acquire an amazing smoothness, silky and docile.
There is another recipe for the preparation of the mixture. Since ancient times, it is known that natural honey has good clarifying properties. When applied to damp hair, it begins to produce a weak acid, which in its action is similar to hydrogen peroxide. Stir honey with cinnamon powder – components should be taken in the proportion of 1: 1. To give the mass the desired consistency, lightly dilute it with warm boiled water. The resulting composition for clarification evenly distribute through the hair, put on a polyethylene cap and wrap your head with a shawl or a handkerchief. Keep the "paint" needed for 1.5-2 hours. After that, the hair is washed with warm water.