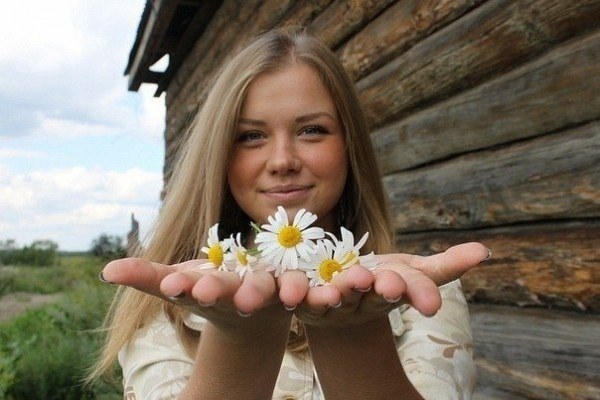 Brightening mask is suitable mainly for blond hair. Of course, brunettes from this procedure will not grow bald, but the effect will be minimal. So attention, the fair-haired girls! I bring to your attention an excellent mask from simple ingredients: chamomile flowers, lemon juice and burdock oil!
You will need
1. Chamomile flowers. Are sold in any pharmacy. It is best to take in bags.
2. One lemon.
3. Репейное масло. Не обязательно, но оно очень полезно для поста волос.
4. Capacity, capacity about 500 ml.
Instructions
Заливаем 8 пакетиков ромашки 500 мл кипятка. Почему пакетики лучше, чем просто цветки? Если делать настой из цветков ромашки, то их потом будет крайне неудобно вычесывать из головы, плюс к тому же, эти цветки будут у вас разбросаны в радиусе около 1 метра. Поэтому, если в ваши планы не входит уборка помещения после нанесения маски, лучше воспользоваться цветками ромашки в пакетиках)
Add in the infusion juice of half a lemon. Lemon itself is an excellent clarifier, so it will not be superfluous.
Add 1 a teaspoon of burdock oil. I warn you! After applying the mask, your head will be very greasy (all because of burdock oil), so it must be thoroughly rinsed.
We cover the container with the infusion and let it brew for 30 minutes.
Pouches with chamomile are removed, after having wrung them. Infusion for half an hour should be cooled to room temperature.
We rinse our head. It is recommended not to squeeze out the hair, but simply wrap the old unnecessary towel. The fact is that the infusion of chamomile stains everything to which it "touches" in yellow, I advise you to take this into account, so that it is bitter not to regret the spoiled things (it is practically impossible to wash them). If you decide to use chamomile flowers not in bags, then take 8 tablespoons, then pour infusion through a strainer or leave everything as is, as you like.
When the towel absorbs moisture a little, comb your hair, wait from 40 min to complete drying (chamomile is not a hair dye, it can not be "overdone", that is, nothing terrible will happen to your hair). The time of "aging" depends on your desire to lighten up. After that, my head with usual shampoo, mine thoroughly, since the head will be oily (all because of burdock oil, which can in principle not be added).
So, the result! From brunette to
blonde
you will not turn, but light brown hair will become softer, a bit lighter, shine will appear, especially if this procedure is repeated at regular intervals a couple of times a week. You can also use this infusion every day as a regular conditioner after washing your head (though without burdock oil). If you still after using the tincture walk in the sun, the effect will be stronger.