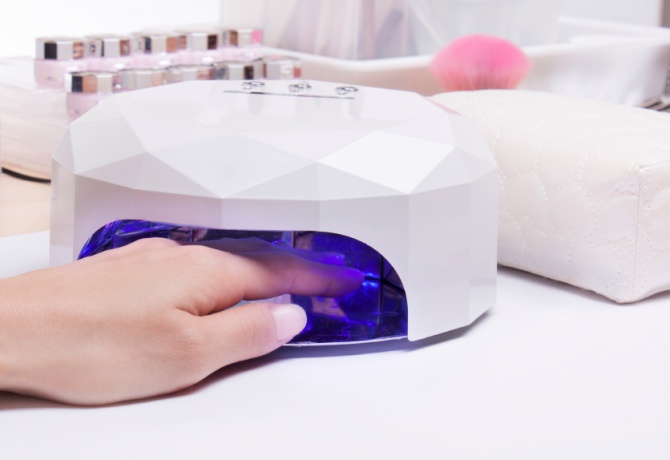 Do shellac at home without an ultraviolet or LED lamp is impossible – it just will not hold. If you buy a ready set for shellac with a lamp failed, you can choose it separately. Select a lamp for shellac needs taking into account the main parameters – power, the presence of a timer and a fan.
Lamp for nail extensions performs the following functions: it polymerizes gel, gel-lacquer (silk) and biogel. The more powerful the lamp, the less time it takes to dry, but the harmful effect can be increased. To avoid the risk of unnecessary exposure, shellac Timers that limit the time of work. Such models are very convenient – because you do not need to detect time, which is not always convenient with one hand. Built-in fan helps to speed up the process.
Types lamps for shellac

Ultraviolet (UV) models. They act at the expense of ultraviolet radiation, these are portable and inexpensive devices. In addition to drying the gel, it disinfects, disinfects and replenishes the lack of vitamin D in the nails. It is important to understand that prolonged work can have a negative impact on health, so it is better to choose it for home one-time use.
LED-lamps are considered more modern, they work on semiconductor light-emitting diodes. Such models are much more powerful, the lamp in 9 W works similarly to a UV lamp in 36 W.
Best lamps for shellac

Lamps UV 36 Tues. SD-3608P with touch screen and electronic timer adjustment from 30 to 300 seconds are considered one of the best in its class. They are equipped with a special sensor that automatically turns on the device as soon as the hand enters the field of its action.
UV JessNail 36 W – more budget option, such lamps for shellac are inexpensive, inferior in functionality, but not in efficiency. Four lamps on 9 W work even faster thanks to the mirror walls and the bottom – the gel polymerizes as evenly as possible.
UV Lamps 36 Tues. Boombox or Stream with a fan have an excellent design and performance. The digital display sets the operating time, and the beep indicates a readiness.
LED Entity Lamp, 40 W – a professional model for working in the cabin or at home. It gives an ideal glossy, even and durable coating of shellac. The bottom is easily removed for disinfection, and for convenience, a timer and an automatic switch are provided.
Lamp Runail, UV-LED 12 WATT – a universal device that combines UV and LED technology. It allows you to work not only with shellac, but also any gel-lacquers and biogels, including single-phase, three-phase UV gels, permanent varnishes, acrylics, etc.