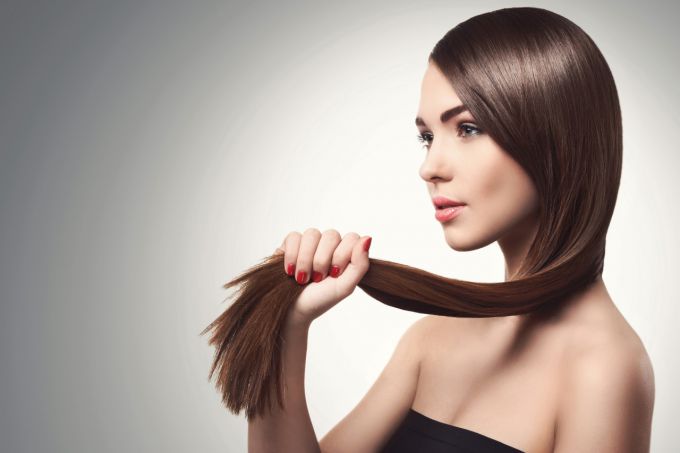 Owners of disobedient curls and curly ringlets long ago chose the procedure of keratin hair straightening. Keratin – a natural protein, which consists of hair and nails.
When the keratin is washed out, the structure of the hair begins to break down and break down. The composition of the keratin mixture also includes extracts from medicinal plants and formaldehyde. It causes a lot of controversy about the usefulness of the procedure. Although hairdressers also claim that the percentage of the substance in the mask is minimal, keratin procedures are contraindicated for pregnant and lactating women, children, the elderly.
How does keratin hair straighten? First, the master washes the head with a special shampoo and thoroughly dries the hair. Then, along the entire length of the hair, a keratin mask is applied and dried again. Each strand is carefully straightened with iron, heated to 230 degrees. At high temperature, the hair opens and the substance penetrates deeper into the follicle. The effect of shiny smooth hair will be noticeable immediately. But in order to keep it you will need to observe some rules of caring for your hair. The first three days the head can not be washed and used with hairpins and elastic bands. Hair should be washed only with special keratin shampoos and professional series balsams. Thoroughly dry all strands, especially at night and do not go to bed with a wet head, otherwise there will be wrinkles in the morning. You can not color your hair before 2-3 weeks after keratin treatment.
The disadvantages of this care can be attributed to the fact that reviews about the procedure vary greatly. Someone is delighted with the effect and its duration, someone on the contrary had to face disadvantages in the form of fatty hair, their loss, a specific smell. In any case, it is necessary to consult a specialist before the procedure. Keratin straightening procedure is purely salon, do not try to spend it at home on your own. If you have doubts about the rationality of the procedure, start with home care with special hair products. So you can determine how well you carry the drug.