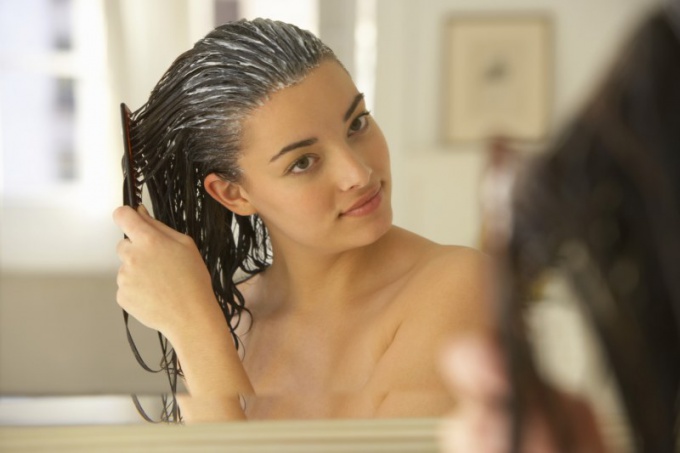 To give the hair the desired volume and luxurious shine will help homemade masks, among which cosmetic mixtures made of kefir are especially effective. Kefir is a natural source of useful elements. This sour-milk product is rich in proteins, vitamins of groups B and E, calcium, protein, useful biocultures, etc. Due to this composition kefir softens and moisturizes dry hair, prevents their loss, struggles with brittleness and restores the structure. In addition, kefir masks are used as a clarifying agent for hair.
Moisturizing and nourishing hair of dry type
The recipe for this healing "cocktail" for hair is as follows:
– 1 tsp castor oil;
– 3 st.l. fermented milk product;
– chicken yolk.
Yogurt is introduced into the yolk, beaten until a delicate foam is formed, and butter and kefir. The finished composition is applied to the scalp (movements must be massaging and tender) and distributed along the strands. Next, cover the head with a plastic bag and warm it with a towel. After 57-60 minutes, rinse the nutrient mixture with warm water and rinse the hair with cool water with the addition of a few drops of citrus aromatic oils (such a conditioner will eliminate the unpleasant kefir smell). This procedure is recommended to be performed once a week.
Restorative mask based on yogurt
To prepare it you will need the following set of products:
– 3 quail eggs;
– 3 st.l. honey;
– 85-100 ml kefir.
The ingredients are mixed, after which the finished slurry is covered with all the hair (from the roots to the tips). The head is insulated from above and the cosmetic 2-3 is kept for an hour. Wash off the "treat" for hair with warm water and rinse your hair with chilled to a comfortable temperature herbal infusion: chamomile (for owners of light hair) or nettle (brunettes and brown-haired).
Lightening hair with kefir
To lighten hair, it is recommended to use a mask, the recipe of which is this:
– 2 st.l. cognac;
– 1 tsp honey;
– egg;
– juice from one lemon;
– 60-65 ml of fermented milk product.
To prepare this clarifying agent recommend to take skimmed yogurt. The sour milk product is mixed with lemon juice, cognac and honey, as well as a lightly beaten egg. Nutritive mass evenly covers the entire hair, after which the head is put on a rubber and woolen hats. The effectiveness of this "paint" depends on the time during which it is kept on the hair: the longer the mask is on the hair, the better the effect. That after the first application the result was bright, the clarifying mask should be done for the night. Wash the kefir mixture with warm water and shampoo.