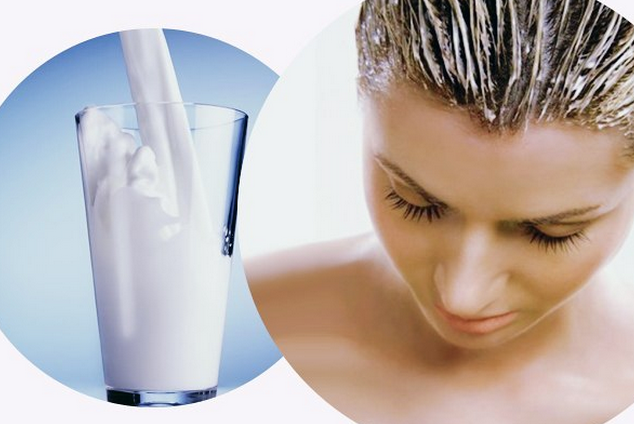 Hair – an indicator of not only beauty, but also the health of women. Well-groomed, beautiful and shiny hair evoke the ecstasy of others. But it's not enough just to wash your hair with a constant periodicity. They need a constant diet, for example, kefir mask. For hair, it will become a true panacea.
Kefir hair masks are very easy to prepare. They have a very good effect of application, and the addition of various additional elements will help to make any hair perfect.
The recipe for a firming kefir mask with burdock oil
There are no contraindications and side effects from this mask. Therefore, it can be safely applied to strengthen any type of hair. Use it is recommended once a week. To prepare this mask, you will need 200 ml kefir, and 5-10 drops burdock oil. Kefir must be warmed, add oil and mix well. Apply the mask over the entire length of the hair, carefully massaging the scalp. Then the hair is wrapped in polyethylene film. And over cover with a warm towel or cap. The mask lasts 2 hours. And then washed off with the usual shampoo.
Mask that feeds hair, with rye bread
The feeding kefir mask should be applied weekly for 2 months. Only then it will be possible to see changes in the structure of the hair with the naked eye. To prepare 1 portion of the nutrient mask, 500 ml of kefir, several small pieces of rye bread, 2 st. l. juice of onions and 2-3 st. l. cognac. Kefir needs to be warmed and soak bread in it. Then add the juice of onion and cognac and beat well. The resulting mass must be applied to the hair and kept under a cellophane film and a warm towel 2-4 hours. Then the mask is washed off with shampoo.
Kefir mask, accelerating the growth of hair
To prepare the mask you will need a glass of yogurt and dried up burdock root. Kefir must be warmed, and the root to grind to the state of powder. In kefir is added only 2 tablespoons of the received powder. The mixture is thoroughly mixed. A mask is applied over the entire length of the hair, emphasizing the roots of the hair. The mask should be kept at least 30 min.