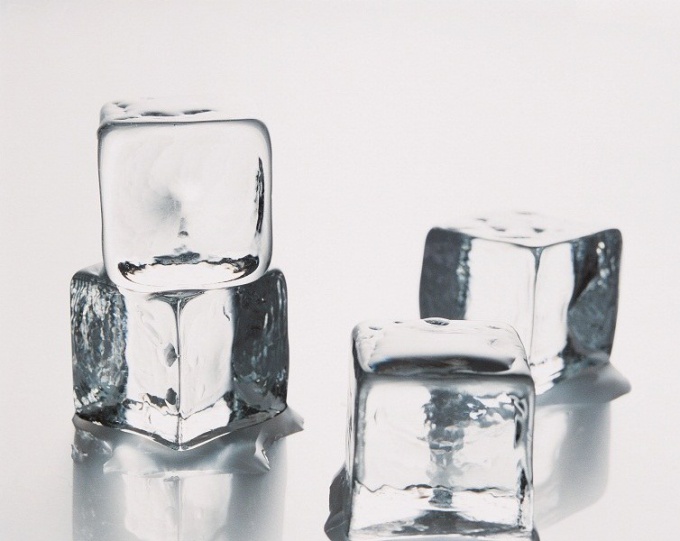 To preserve beauty and youth, the beautiful half of humanity resorts to all sorts of tricks, some of which are capable of plunging into shock their value. But folk recipes, too, can achieve an excellent effect with the fact that it is easy to follow, and costs are almost zero. Wiping the face with ice is the method from this series.
Simple Ice Cubes Make ice cubes for your face very simply. To do this, you need a mold in which the liquid will be poured, and a freezer. Used for it is the most common drinking water from a teapot or a filter, and bottled will do. You can also make cosmetic ice, which differs from the usual in that it contains additional useful ingredients: all kinds of broths and infusions of herbs. Plant components can have a beneficial effect on the skin, the type of which you determine, using additives with different properties. You can also freeze ordinary mineral water. Ice Cubes for the face on a herbal infusion The procedure for making ice from a herb infusion is almost always the same. Take a teaspoon of dry chopped leaves and fill it with one glass of boiling water. Within a few hours the composition should be infused, during this time it will take room temperature. After this, strain the liquid, pour it into the mold and leave it in the freezer to freeze. Selecting ice by type of skin You can choose the herbs for ice, which are suitable for your skin type. If it is dry, then take mint or plantain. For owners of normal skin, an excellent solution will be to make ice from the infusion of chamomile, sage, parsley and lime blossom are good, for plants such as burdock, birch or calendula are needed. If you freeze tomato juice, then rubbing ice cubes from it will eliminate the greasy shine. For skin prone to irritation and acne formation, make ice, in one glass of water for which a spoon of sea salt or table salt has been dissolved. Ice cubes on rice water Rice water is an excellent remedy against stains on the skin. Ice from it tones, relieves of circles under the eyes. To prepare this water, take freshly cooked, well-boiled rice and transfer it to a colander or strainer. A little water will merge at once, and if you just press on rice or mix it, then some more liquid will come out. Freeze this water and rub it on your face every morning. But remember that in three days such ice will deteriorate and lose its effectiveness. We need to prepare a new one. What you need to do after
wiping the face with ice
It is very useful for stimulating blood circulation to carry out a contrast effect on the skin. After you rub your face with ice, put a towel dipped in hot water for a few minutes. Then use ice again. Three cycles will be enough. This procedure is recommended once a week.