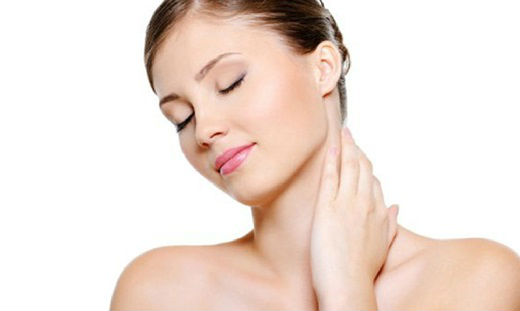 It is possible to whiten the skin of the neck at home without resorting to the help of various cosmetic products that contain harmful chemicals that negatively affect the skin.
Lemon juice
Отбелить кожу шеи поможет лимон. Он обладает природными отбеливающими и вяжущими свойствами.
Take a piece of fresh lemon and gently rub for 15-20 minutes into the skin of the neck. Then rinse with water. Repeat 2 times a day for a month.
Make a mixture of lemon juice and rose water. Apply this mixture on the skin of the neck before going to bed and rinse the skin in the morning. Follow the procedure every day for several weeks.
Mix lemon juice and a small amount of turmeric powder. Apply the mask to the problem areas of the skin and wash it off in 15 minutes.
Cucumber
Cucumbers help remove dead cells that cause darkening of the skin, and form new cells. This makes the skin smooth and light.
Apply the grated cucumber to the dark skin of the neck. Rinse your neck after 15 minutes with cool or warm water. Do the procedure regularly for a month.
Mix a little lemon juice and cucumber juice. Apply this mixture to the skin and wash it off in 20 minutes. Repeat 3 times a week.
Aloe vera
Это растение является популярным ингредиентом косметических средств, используемых для ухода за кожей. Богатое содержание антиоксидантов помогает алоэ устранить поврежденные клетки и образовывать новые, тем самым оздоравливая кожу. Свежий гель алоэ быстро осветляет кожу шеи.
Extract the gel from the leaves of aloe and apply to the skin. Leave on 20 minutes and then rinse with water. Do this every day.
Almonds
Almonds are a rich source of vitamins and minerals. Its moisturizing properties make the skin beautiful and light. To whiten your neck, you will need raw almonds or almond oil.
Regularly apply a little almond oil on the neck and massage for 10-15 minutes.
Chop the almonds into powder. Add milk, honey and form a paste. Apply the paste on the neck area and wash off after 20-25 minutes. Do the procedure every day for a month.