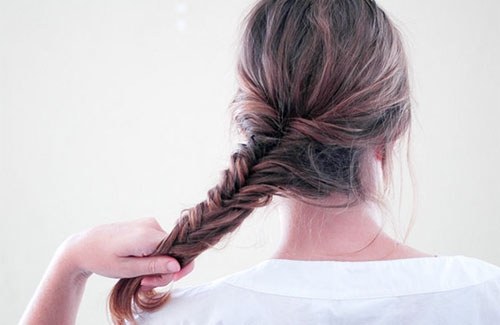 In recent years, it has become very fashionable plait hair in a variety of braids. One of the most popular hairstyles is a scythe called "fish tail", also known as "spikelet". Especially good this braid looks on thick, lush and smooth hair of medium length.
You will need
– hair
– an elastic band or a barrette
Instructions
In order for the "fish tail" hairdo to look beautiful, carefully and gently comb your hair, then comb them back. You can use foam for styling hair. She will make strands more obedient.
Next, separate the two small strands of hair from the right and left temples. The thickness of the strand varies depending on how much your hair is thick, but it is still not recommended to separate strands thicker than two and a half centimeters. Then take these two strands and cross them among themselves: lead the right over the left.
Crossed strands with your right hand. Left separate the new strand, grasping the hair from under the very first left strand. Make sure that all the strands are the same in thickness, it is very important, otherwise the spit turns asymmetrically. The very last left strand is crossed from above with the right and then hold it by the hand with your hand.
Take a new strand of hair from the right and cross it with the double left, just as it's climbing up and grabbing it with your hand. Step four and five repeat the required number of times, depending on the thickness and length of your hair. Continue to weave a fish tail, only now take strands from under the remained tail, instead of from temples. If desired, you can finish the weaving at the neck, fixing your hair with a hair clip or elastic, and leave your hair in the form of a "horse tail".
If you want to give a hairstyle a festive look, pin a flower, beautiful invisible or any other jewelry to your hair. Thus, in
domestic
conditions
will get a very beautiful hairstyle.