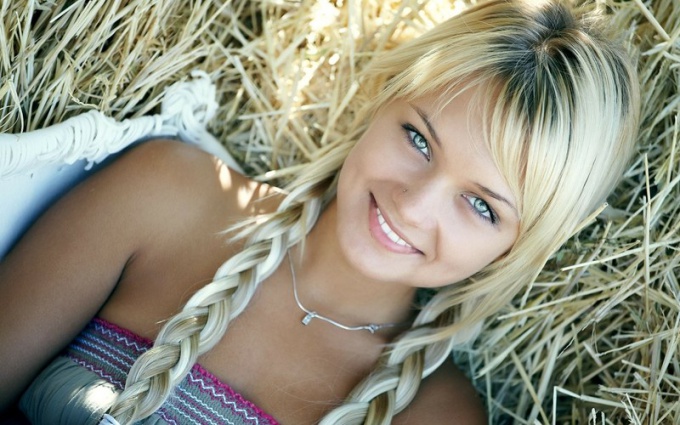 Hairstyles based on braid today in fashion. They especially go to girls and young girls. The braids are ideal for creating a romantic, vintage or classic look. This hairstyle can be done by yourself. Having mastered the basics of technology, you can fantasize, combining weaving and inventing new original variants.
You will need
– mousse-conditioner;
– iron for the hair;
– fixing spray;
– Smoothing cream;
– Comb with rare teeth;
– Erasers for hair;
– studs.
Instructions
Before styling, the hair must be washed. After washing, treat the strands with a mousse-spray, giving the hair elasticity and volume. Thoroughly massage your head and rinse off the remedy. This treatment does not make the hair heavier and adds shine to it.
Wavy strands should be ironed. He will smooth his hair and braid the braid will be much easier. Then divide the hair into an oblique or straight parting and sprinkle with a spray that removes excess static electricity.
Try to braid the French scythe. Comb your hair back and separate
strand
need a forehead. Divide it into three equal parts and begin the weaving, attaching to the spit the thin strands on the sides of the head. In order for the braid to be smoother, smooth the hair with a comb with sparse teeth.
Twist the braid without pulling the strands too tight. Bring it to the back of the head, continue to work. Finish the pigtail with a thin band. To make the hair look more voluminous, the free part of the braid can be turned inside, straightened and stabbed with studs.
The braid can not be stitched, leaving it free to fall down. To make it look fashionable, tie the end with a velvet or ribbon, disguising the hair elastic. Hand pull the strands in different directions, giving the spit carelessness and volume.
Another popular version of the braid is the basket. Divide the hair into an oblique parting. For greater smoothness of hair they can be lightly lubricated with a light cream that gives shine and moisturizes curls. Take the prick at the parting, divide it into three parts and begin the weaving, leading the braid along the forehead. Try not to pull your hair, otherwise the basket will be uneven.
Lead the weave along the ear to the back of the head, and then to the beginning of the work. When you have finished, prick the end of the braid and tuck it inside. The advantage of such a hairstyle is that it does not require fastening with hairpins and hairpins.