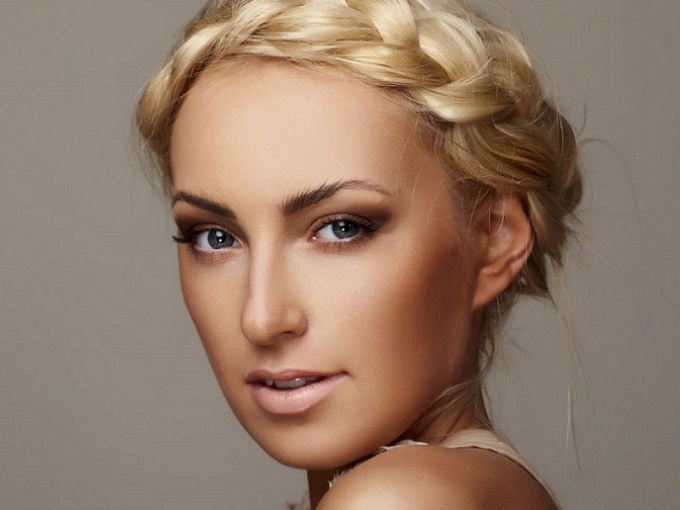 Hairstyle basket usually braids young girls. However, braids are so popular in recent times that older ladies try on them. Fortunately, you can braid the French pigtail, which is the basis of the basket, so that the hair will become an ornament of the romantic image and will look very relevant and not at all childish.
You will need
– comb;
– scrunchy;
– studs or invisible.
Instructions
Comb your hair to make the basket smooth and without "
roosters
", The hair should be clean and easily divisible into separate strands. Make a parting from one ear to another. Hair at the bottom of the head gather rubber band in the tail, upper comb from one temple to another.
Separate a small part of the hair from one ear, divide into three strands. Start the weaving of the French braid parallel to the line of hair growth on the forehead. To do this, swing the left from the gusset to the center, then repeat this procedure with the right. Next, connect the hair from the sides to the weave. Separate small strands, connect them with workers and throw them into the center. Continue weaving in this technique until until the second temple there are a couple of such grips.
Remove the elastic from the lower tail, fixing the weaving with the fingers of one hand. When it will be necessary to use the next string from your forehead, separate more hair than before, make the next transfer, form the bend of the pigtail down. Prjadki, from a vertex should be thus thin. Repeat this procedure two or three times and pull the braid to the bottom of the head so that the weave takes the opposite direction. Continue until all hair is involved in the work.
Embroider a regular pigtail of three strands, when all the hair will be gathered into a basket. Make sure that its direction corresponds to the circle formed by the hair on the head, otherwise the last strands will form "roosters". Fasten the tips with an elastic band. Hide the pigtail in the weave, fix it with stilettos or invisible. If desired, decorate with a flower or bow.
In addition to the classical
draconian
, the basket can be braided by the French oblique vice versa. In this case, it is necessary to stretch the bends of the hair a little every two or three times, this will help to give the hairdo an extra volume, and even on thin hair you will get a smart ear.