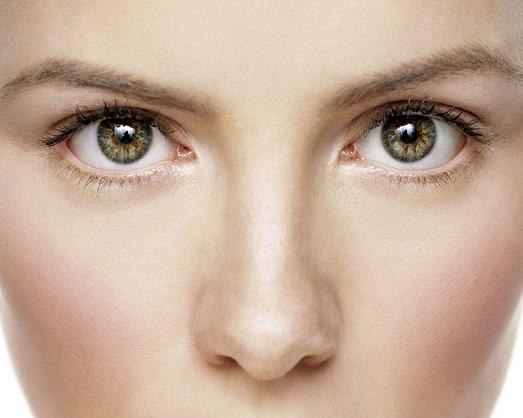 With the help of properly applied make-up, you can visually align the proportions of the face. For example, the right use of powder of dark shades, as well as hylaiter and rouge, helps to visually reduce large nostrils.
How to visually reduce nostrils with tonal means
The large nostrils visually make the female face quite rude. Representatives of the fair sex who can not boast of the correct form of the nose, as a rule, want to hide this flaw in every possible way. Some of them even turn to plastic surgeons for help. However, makeup artists claim that it is possible to visually reduce large nostrils with the help of makeup.
The use of tonal products helps to correct deficiencies. It is important to remember that the dark shades of the funds visually reduce certain areas of the face, and light – increase. This rule helps to achieve really amazing results.
In order to visually reduce large nostrils, you need to apply to the whole face a foundation or a powder of shade, ideally coinciding with a shade of skin. Then you need to use a powder or a cream of a darker color. The selected agent should be applied directly to the lower part of the nose.
It is important that the boundaries of the application of cosmetic products are not visible. The tonal cream and dark powder should be thoroughly shaded. Makeup artists advise using a dark friable powder and apply it with a large brush. In this case, you can walk the brush not only on the lower part of the nose, but also on the cheekbones, along the hair growth line. This make-up will look as natural as possible.
Application haylaytera and blush
Instead of a dark powder or foundation, you can use a blush of natural shades. They need to be applied to the tip of the nose, as well as to the cheekbones. With the help of blush, you can visually adjust the proportions of the face, hiding visible defects.
The distraction of attention from large nostrils is helped by the use of a highlighter. This cosmetic product containing light-reflecting particles should be applied to the bridge of the nose, to the cheekbones. They can emphasize the area above the lip, the central part of the forehead. Thanks to its use, it is possible to visually distinguish certain parts of the face and visually hide flaws.
Makeup artists recommend that owners of large nostrils make an emphasis on make-up on the eyes, and not on the lips. Shadows of light colors, lengthening mascara, white pencil for the mucosa the shells of the eyes make it possible to make the look more open and expressive. Thanks to this technique, you can achieve that the interlocutors will look into the woman's eyes, not noticing such a lack of her appearance, like large nostrils.