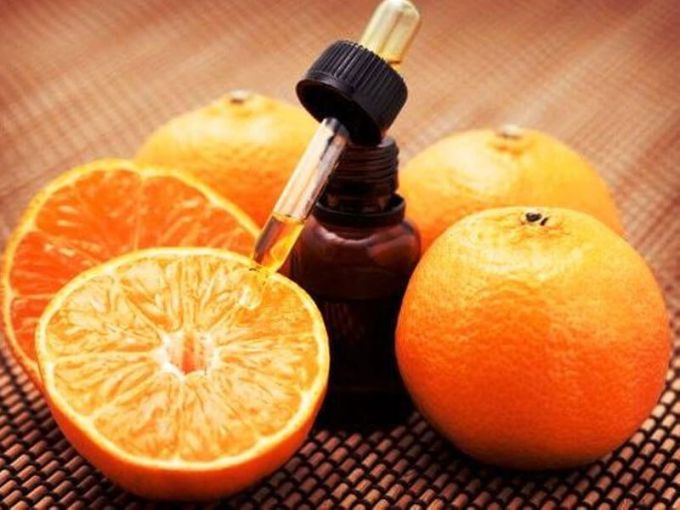 Orange oil is appreciated in cosmetology, aromatherapy and perfumery. It is often used for hair care: with its help get rid of dandruff and hair loss. The product not only moisturizes the skin and makes the curls shiny, but also has tonic and antiseptic properties.
Orange oil can make hair silky, accelerate their growth, restore the stem structure and strengthen the bulb. This ether is useful for hair of any type, and it is used not only as a component for masks.
How to use orange hair for hair?
There is an 4 way to use this tool:
Orange essential oil is added to products for hair care: balms, shampoos, masks, rinse and conditioner. For this, the agent is poured into the palm and a little oil is dripped. On 10 ml of shampoo is enough 3-4 drops of ether.
Orange oil is useful for aromatics. A few drops are applied to the comb and carried from the roots to the tips. Thanks to this procedure, the hair becomes obedient and elastic.
Head massage is another procedure for which orange oil is useful. The agent is applied to the palms, warmed for several seconds and rubbed into the skin for 10-15 minutes, then the hair is washed with shampoo.
Masks with orange are prepared at home. Popular means are used on the basis of any other oil, for example, corn, olive, burdock or grape.
How to make masks with orange?
To make the orange hair oil as useful as possible, you need to choose a suitable recipe.
Nourishing mask with orange and honey. This is an excellent option for weakened and colored hair. For its preparation mix 1 yolk, 0,5 st.l. honey, 1 tbsp. castor oil and 5 drops of ether.
Remedy for dandruff. This mask is prepared only from oils: in a small bowl mix 6 st.l. almond oil, 2 drops of orange, patchouli and mint. The tool is kept on the head for at least 2 hours.
Mask for hair growth.First with 2 st.l. honey mix all the esters: according to 3 drops of orange, eucalyptus and cedar oil. Then add 1 yolk and 1 st.l. olive oil.
The use of orange oil for hair will be noticeable if it is used at least 2 once a week for 2 months. Next, beauticians recommend taking a break for at least a month, and then again to repeat the procedure.