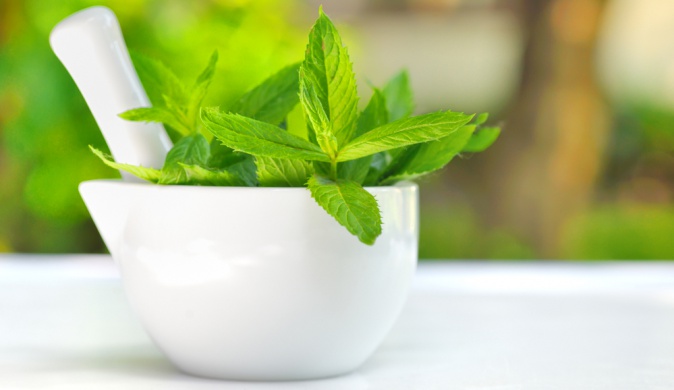 Refreshing mint is a real salvation in the summer heat. Since ancient times it has been valued not only as a medicinal plant, but also as an indispensable component of all kinds of cosmetic products.
From the leaves of peppermint extract a valuable essential oil, the main active ingredient of which is menthol. Menthol is able to stimulate blood circulation, remove toxins, normalize the work of the sebaceous glands, cool, refresh, soothe and dry the skin. In addition to menthol, mint contains organic acids and tannins, ascorbic acid and carotene, flavonoids and microelements. Essential oil of mint is a well of useful properties. If you mix it with the oil-base in small proportions – it acts on the skin soothing, narrows the capillaries, relieves inflammation and irritation. If you add a little more mint – increases the flow of blood, warms the skin and causes blush. In addition, the oil stimulates the blood supply to the roots of the hair and effectively removes the headache.
Peppermint extract or its essential oil is added to toning lotions, anti-acne cosmetics, fatigue and weight relievers, shampoos for oily scalp and anti-dandruff, as well as anti-cellulite and firming body creams.
Try to make an anti-cellulite wrap with mint in the home conditions!! Dilute the apple cider vinegar with water in equal proportions and add 5 drops of mint oil. Mix a thin cloth or gauze dressing in the mixture and wrap the problem areas. Top the winding food film and leave for an hour and a half.
Also, a few drops of oil can be added to the wrapping effect on the basis of cosmetic clay to enhance the effect.
Essential oil has a pronounced antiseptic and wound-healing effect. Thanks to this, mint oil is effective in the treatment of acne and various skin diseases.
The easiest way to deal with oily, porous and pimply skin: just brew the leaves of mint with boiling water, let it brew for about 20 minutes and drain. Then apply the leaves to the cleansed face skin for 20 minutes. It is recommended to apply 3 once a week. In a month you do not find out!
In addition, it neutralizes discomfort in eczema and fungus, and the aroma of mint improves mental activity and improves mood.