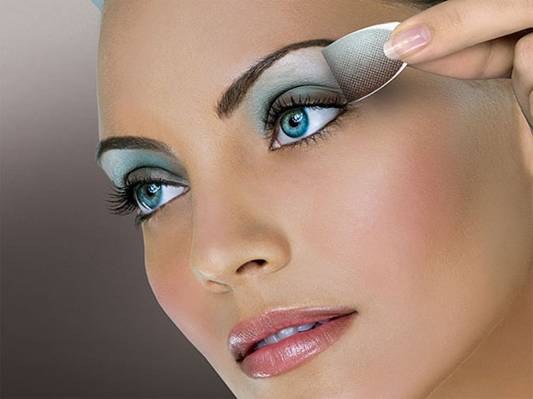 It is generally accepted that blue shadows are ideal fit for blue eyes. In fact, only some shades of this color can be called appropriate. Unsuccessful selection of cosmetics can make a blue-eyed beauty look ordinary.
Which shade of blue shadows to choose
In order to emphasize the beauty of blue eyes, you need to use the shadows of the correct tones. Very often, women try to choose the tone of a cosmetic remedy for the color of the eyes. Makeup artists claim that this is a very big mistake. It should be remembered that the shade of shadows should not ideally match the shade of the iris of the eyes. It is desirable to choose cosmetics of lighter or darker, more saturated tones.
To make up the eyes of a sky-blue shade, you should use gray or gray-blue shadows. For the make-up of gray-blue eyes, the shades of a rich blue tint or blue-colored cosmetics are ideal.
You can also experiment with the richness of the shades of cosmetic products. The light shadows of the eyes visually increase their eyes, open their eyes. Dark shades of cosmetics are suitable for owners of large blue eyes.
How to apply blue shadows
Modern makeup artists recommend that women use makeup not just one, but several shades at once. For example, it can be shadows of blue tones of different intensity. This makeup looks very impressive. With the help of it you can visually adjust the section of the eyes, visually open your eyes.
For convenience, you can buy in the store a makeup pallet, in which shades of different tones are perfectly matched by professionals. You can also purchase several shades of shadows separately.
When applying cosmetics, you need to focus on one of the classic makeup schemes. All the mobile eyelid can be covered with blue shadows of not too intense shade. If desired, they can be applied not to clean skimmed skin, but to a special base. In this case, the cosmetics will lie in a more even and dense layer.
The inner corners of the eyes can be highlighted with light blue, light gray or white shadows. This is especially true for owners of close-set eyes. The use of pearlescent shadows makes it possible to make this deficiency visually less noticeable.
Shadows with mother of pearl can also be applied in the middle of the century. This technique allows you to make the look more expressive, mysterious.
At the same time makeup artists advise blue-eyed beauties of mature age to use pearlescent textures with great care. Such cosmetics emphasizes all small wrinkles, which is highly undesirable.
In order to emphasize the depth and expressiveness of blue eyes, you need to apply shadows of a saturated blue, gray-blue or blue-blue hue to the outer corners of the upper eyelids.