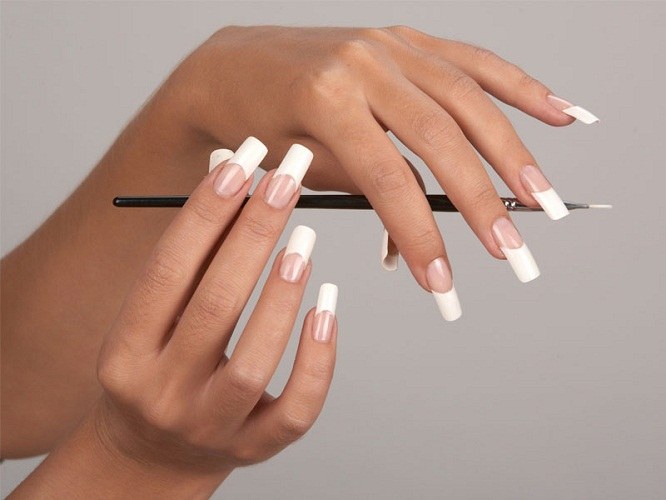 Today, when creating a manicure, gels for nails are often used. Their advantages over conventional varnishes are that they can save you the need to constantly tint and process your nails for three to four weeks. In addition, this coating is very thin, so it looks natural, does not harm the nail plate, but, on the contrary, strengthens it.
Instructions
Use gels
for nails
quite simply. First, treat the nails and the skin around them. Remove cuticles and pterygium. Then, using a special nail file or soft pumice, remove the gloss from the surface of the nail and apply a degreasing agent.
After preparing the nail plate, apply a thin layer of the base gel and hold the nails under the UV lamp for two minutes.
Now apply the color gel in one layer. If you wish to do
French manicure
, then first make on the tips
nails
white "smiles", and then apply a pink gel. After this, again, hold the gel under the lamp for three to four minutes.
If you want to
to make manicure
with sparkles, then apply on the selected zone
clear gel
and, until it withered, gently sprinkle it with dry sequins. To ensure that they are distributed evenly, use the usual applicator for shadows (it should be clean and dry) or a plastic beverage tube cut at an angle. Gather a small amount of sparkles, and tapping on the applicator or tube, sprinkle them with the area with a transparent gel applied. Hold the nails under the lamp for about two minutes.
Теперь, не снимая липкий слой с геля, нанесите верхнее покрытие, внимательно замазывая все свободные края, иначе высохшее
gel coating
just exfoliate. Hold the nails under the lamp for about two minutes, and then remove the dispersion layer. To do this, take a clean sponge, apply a special agent on it and gently swipe it along the nail in the direction from the base of the nail to the tip. Use a clean sponge for every two or three nails, otherwise the surface of the gel will not be glossy. Now apply to the area
Cuticle Oil
and let it soak.
Гель можно не снимать в течение трех недель (срок зависит от темпа
nail growth
). For removal, it is necessary to apply a special tool to the cotton pad, then put it on the nail, wrap the finger in foil and place under the ultraviolet lamp. After 10-15 minutes, the gel is easily cleaned, and you can apply it again immediately, without interruption.