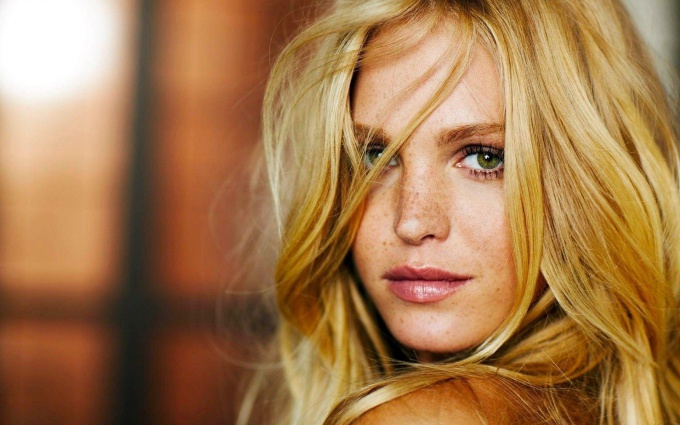 Bronzer resembles its usual compact powder, but more dark shades. You can use the bronzer for the face all year round to give it a fresh look with the effect of light tan.
Instructions
Do not rush to immediately start applying powdered bronzer. First, moisturize your face with an ordinary day cream or tonal remedy, otherwise the bronzer will stain, which will not have the best effect on your appearance. Before applying a bronzing powder, select its suitable shade. Girls with fair skin need to pay attention to the average tone and try to avoid the dark ones. With swarthy skin, the latter are perfectly combined. It is important to try not to use a bronzer with a clear yellow pod, otherwise the complexion will look unhealthy.
Do not apply a bronzing powder puff. For this purpose, a broad and soft brush is suitable, only then the powdered face will look natural. When applying the bronzer on the brush, do not forget to shake off the excess. In a circular motion, evenly distribute the product on the face, thoroughly shading. Those who are just beginning to use bronzing powder, it is recommended first to practice applying it to the protruding parts of the face, which include the forehead, the back of the nose and cheekbones.
It is also important to pay attention to the neck and decollete area, because, as a rule, these are the brightest areas on the body that do not respond very well to natural tan. But thanks to the bronzer makeup will look harmonious, without sharp transitions, contrasts and borders.
A small bonus when using bronzing powder is the possibility of easy adjustment of the face oval. Owners of the round type face apply the bronzer under the cheekbones, leading the line to the temples on both sides. With a square type of cheekbone face, one must try to smooth out, applying the remedy from the bottom up. If you have a triangular type of face, try to darken the line of the chin. So, applying a bronzing powder is not at all a difficult procedure. The main thing in this business is practice, so do not despair if something does not work out the first time.