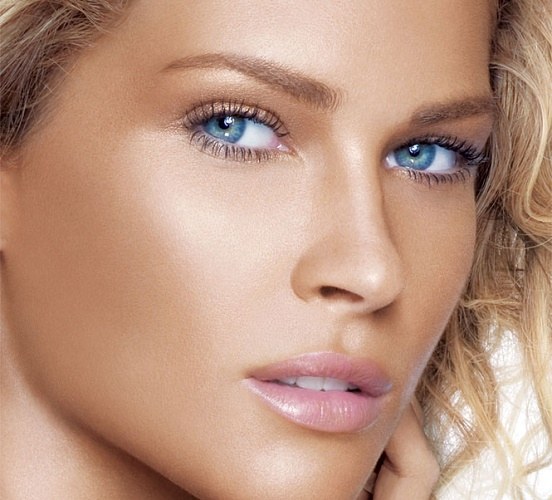 Bronzer is a cosmetic product that can be bought in the form of a cream, stick or powder. To give the skin the effect of inner glow, to emphasize the face oval and natural tan can be by selectively applying the bronzer on the protruding parts of the face.
How to choose the right bronzer
Bronzer is designed to create natural natural make-up. You can apply cosmetics on the cheekbones, whiskey, lateral parts of the bridge of the nose, the outer edge of the forehead and the wings of the nose. With the help of a bronzer you can easily disguise the second chin, high forehead, outstanding cheekbones and give the pale skin a healthy shade and radiance. When choosing a cosmetic product, it should be borne in mind that the bronzing shade should be only slightly darker than your natural skin color.
If you have a naturally light skin, you will like beige shades of bronzer. Dark-skinned girls can easily choose chocolate and brick shades. In winter, makeup artists recommend using a creamy texture. And in summer heat it is better to stop the choice on bronzing means in the form of powder. Pressed sticks are ideal for dry skin, prone to irritation.
For evening make-up use a bronzer with micro-globes. And for everyday use, choose matte. Remember, having mastered the technique of applying a bronzing agent, you can create the most natural make-up that will emphasize all the dignity of the face, neck, bust and hide the flaws.
Bronzer application technique
Recently, the most popular was the technique of sculpting a bronzing agent or makeup-bronzing. With the help of a brush or a sponge draw a letter "C" from the temple. Thoroughly blend the resulting lines to make the transitions invisible. Remember, the lower part of the letter should be above the corners of the lips at 2 cm.
Next, apply a little bronzer on the top of the forehead along the hair growth line, again thoroughly blend. Correct the shape of the nose can also be done with the help of smooth bronzing lines, applied to the side parts.
To the face, neck and bust coincide in color, apply a bronzing agent perpendicular lines, starting from the bottom of the chin towards the neck and bust. If this is not done, the difference in the shades of the skin of the face, neck and bust will catch your eye. When using a cream or stick, thorough feathering can be done with a cotton pad or sponge.
Add shine to evening make-up, using pink powder or hailer, applied over the bronzer. If you are planning to put on a decollete dress, go through the brush with a bronzing agent over the open shoulders.
Do not overdo it. The excess bronzer will emphasize every wrinkle and add to you, at least a few years. Always remember that there should not be a lot of make-up.