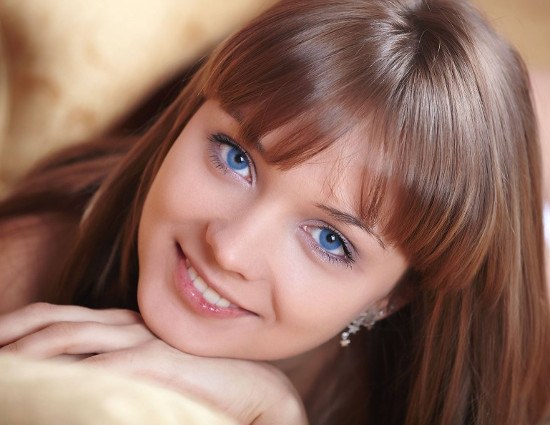 Straight bang goes to many, but it needs constant care. Well-groomed or overgrown, she looks untidy. Fortunately, a straight fringe has the most universal shape, so it allows you to create different images without additional length correction.
You will need
– Round brush for hair;
– Flat comb;
– hairdryer;
– iron for the hair;
– fixing means;
– Invisible.
Instructions
Volumetric bangs to the eyebrow line
Such a styling should be done with a round brush and a hair dryer. To the ends of the hair formed a natural bend, you need to use a flat nozzle and the movement of the hand to give the hair the right direction. The size of the brush depends on the degree of roundness of the bangs, most naturally it looks after working with a large tool, for example, the diameter of 5-7, see.
Bangs on the side
A slightly overgrown straight bang can be used to create an asymmetrical hairstyle. To do this, you need to make an oblique parting and give it a volume and a rounded shape with the help of the same brush. It is important that the hair is fixed and do not return to a more familiar position, so for more reliable styling it is worth using mousse.
Naches on the top of the head
A long straight fringe is suitable for creating retro style hairstyles. To do this, you need to collect hair for a while on the vertex. The bangs need to be divided by straight parting and accurately fixed with invisible objects on the temples, and if the length allows, behind the ears. After that, it is necessary to remove the elastic from the tail and make a neat coat on the crown. If desired, you can collect hair in the hairdress "Malvina" on the back of the head.
Начес наверх
If you want to open your forehead, you need to comb your hair bangs and crowns from the back and fix it with invisible ones. To create deliberate negligence, you can divide them into strands and slightly twist. Especially good looks such a styling, if all the other hair is gathered in a bun, or in a "cockleshell" hairstyle.
Straight bang below the eyebrow line
To create a perfectly flat bang that falls on your eyes, you need to use a special iron. Movements should pull the hair down. In this case, the bangs can be perfectly flat or torn – both options look interesting.
Ruffled bangs
This version of express-packing is suitable for confident girls. To do this, apply a small amount of gel to the fingers, distribute it and lightly tousle the hair at the roots. It is not necessary to spend means on all length.