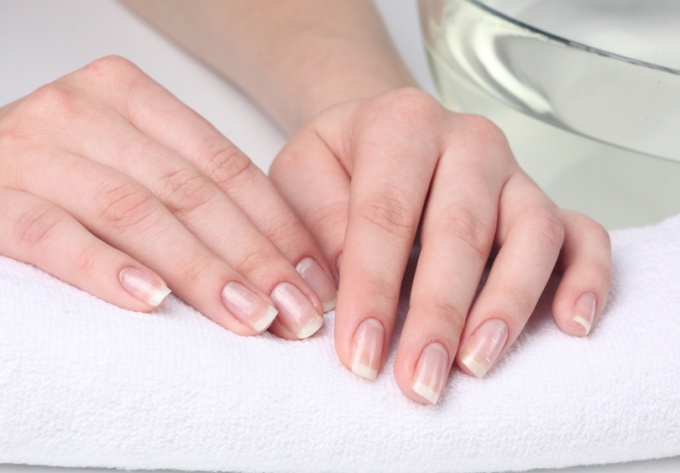 If you want your nails to be strong and healthy, then, naturally, they should be taken care of. Various negative factors, such as stress, exposure to various chemicals, lack of vitamins, lead to brittle and fragile nails. To strengthen them, use the proven recipes, namely the recipes of the baths.
Excellent strengthens and nourishes the nails of a bath of sea salt. To do this, take 0,5 liters of warm water and add a tablespoon of sea salt (use salt without aromatic additives). Then put your fingers in the tub and hold them for 20 minutes. Next, wipe your hands and apply a nourishing cream. Apply the procedure every day for a week, then you must interrupt it for a month.
A lemon bath will help to strengthen the nails that break up. Take the vegetable oil (1 tablespoon) and heat in a water bath, stirring, add 3 drops of medical iodine, as well as a tablespoon of lemon juice. Cook until the mixture turns into a homogeneous mass. Cool and immerse your fingers in the tub for about 15 minutes.
To prepare another tray you will need 2 tablespoons of honey and 2 tablespoons of olive oil. They need to be heated in a water bath. Then remove from heat and add 1 beaten egg. Keep the nails received in the received tray for 10-15 minutes.
If you have weak nails, use a gelatin bath. Gelatin is able to miraculously nourish and strengthen the nails. Take an 1 glass of boiling water and dissolve in it half a tablespoon of gelatin. When the mixture has cooled, immerse the fingertips for 15 minutes. This bath is useful to hold a couple of times a week.